<! ======================================================================= --> <! ======================================================================= -->
<! ======================================================================= --> <! ======================================================================= -->
Reticles
Now available in Prym-1 camo patterns.
Available with the Ballistic CQ reticle, or new Ballistic AR reticle (200426, 200426-ff)
The resilient MTAC 1-4x24mm riflescope is tough, with superb, glare-resistant glass and a sleek, snag-free profile.
This compact model is perfect for 3-Gun, close quarter battle (CQB), or big-game stalking.
With its high-performance glass, solid 1-piece tube, and internal double spring-tension assembly, this MTAC Riflescope can handle the harshest shooting environments.
And the warranty is forever.
Item Number:
200437
200437-FF
200426
200457
200465
200466

Combo Package:
None

(200437)


Included

(200437-FF)


None

(200457)


Included

(200465)


None

(200466)



Magnification:
1-4x
Reticles:
Ballistic CQ™

(200437)


Ballistic CQ™

(200437-FF)


Ballistic AR

(200426)


Ballistic AR

(200457)


Ballistic AR

(200465)


Ballistic AR

(200466)



Objective Lens Diameter:
30 mm
Clear Objective Lens Diameter:
24 mm
Ocular Lens Diameter:
42 mm
Finish:
Matte

(200437)


Matte

(200437-FF)


Matte

(200426)


Prym 1 Blackout

(200457)


Prym 1 Blackout

(200465)


Prym 1 Sandstorm

(200466)



Focal Plane:
RFP
Main Tube Size:
30 mm
Field of View:
100 low – 32 high (ft. @ 100 yds.)
Eye Relief:
3.5 – 4.0 in.

(200437)


3.5 – 4.0 in.

(200437-FF)


3.5 – 4.0 in.

(200426)


3.5 – 4.0 in.

(200457)


3.50 – 4.00 in.

(200465)


3.5 – 4.0 in.

(200466)



Exit Pupil:
24 low – 32 high (mm)
Click Value:
1/2 MOA
Elevation Adjustment, Total Capability:
130 MOA
Example: 50 MOA is roughly 25 MOA from center.
Windage Adjustment:
130 MOA
Example: 50 MOA is roughly 25 MOA in any direction from center.
Parallax/Focus:
None
Adjustable Parallax:
None
Length:
11.3 in.
Weight:
14.5 oz.

(200437)


25.0 oz.

(200437-FF)


14.5 oz.

(200426)


14.5 oz.

(200457)


25.0 oz.

(200465)


14.5 oz.

(200466)



Illumination Control:
Rotary dial; intermediate "battery saver" stops
Illumination Settings:
10 brightness settings
Battery:
CR2032
Tactical kit includes a complete shooting platform at a significant savings: MTAC 1-4x24mm riflescope, 3-MOA FastFire™ 3 red dot sight, and 30 mm AR-P.E.P.R. Mount (200437-FF only)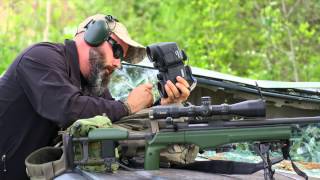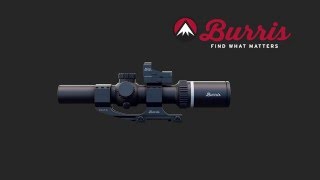 MTAC™ Riflescope 1-4x24mm
is rated out of
5
by
96
.
Rated

5

out of

5
by
TALON52
from
MTAC A Lot Of Scope For A Lot Less Money
This Burris MTAC 1.5-6 X 42mm is my second Burris scope that I've bought. My first Burris scope a XTR 1.5-6 X 40mm that I mounted on a AR-10 build made me a Burris enthusiast. First thing I noticed was that my new Burris MTAC scope was packaged great. The matte finish matches my AR-15 perfectly. Looking through the glass is super clear, I'm sure the 30mm tubes help with the clarity. The illuminated reticle is crisp, and clear with a wide range of adjustment. Weighing in at just 15.5 oz. the MTAC scope is a perfect match for my AR-15.
Date published: 2016-01-31
Rated

5

out of

5
by
Hotrod
from
Great choice for 3 gun
I have been using the Tac-30 for about 6 months, this is a wonderful piece of equipment! Targets at 50 yards or less on 1 power works just like a red dot with both eyes open, I have reached out to 300 yards in a competition and experienced a 1 shot hit several times. I have never fired it with the reticle illuminated, it is black normally and is very easy to see in the daytime, I am sure that in a low light situation, the illuminated reticle would be awesome. My only complaint is I would have preferred a little more magnification, maybe 1-6, but definatly not a deal breaker! I would definatly recommend this product! Phillip
Date published: 2015-04-25
Rated

5

out of

5
by
fawn saver
from
Great scope for a coyote rifle
Nothing has let me down about this scope. The mtac is a hunting scope for sure and don't let it get u down shooting at paper, in the field you'll be amazed with the precision. I'll also say when i bought the scope i was looking forward to the illuminated sight for low light. However i found it works best in the day and off at night using the outer ring for targeting by letting your eye center on the target. Ill add some pic or my last trip with my mtac 1-4.
Date published: 2015-10-24
Rated

4

out of

5
by
Hank
from
Awesome Clarity
Picked this up on a trade, in new condition, for coyote hunting. The glass is wonderful! Very clear. The construction is very robust as well. For CQB, this is the ticket. And, for body hits at 300 is a breeze. Down side, the reticle is not for shooting MOA groups, but it's not designed for that. Also, the illumination flickers on number three because the it does not click in solid. It's has a positive click on the rest. Overall, for the money, this optic is above it's peers and I'm very pleased. I like the fact I can use it as a combat optic and hunt coyotes too.
Date published: 2016-02-06
Rated

5

out of

5
by
Napools
from
Clear and strong
This is a full field scope I purchased for a Big and Dangerous Game, Heavy recoil Rifle, 1) the reticle is the type I like for accuracy at close and moderate distances 2) the 1.5 magnification is optimal for extra wide field of view and target acquisition in immediate need situations 3) The scope has good eye relief for the recoil of the 375 Ruger and Sturdy, 30 MM tube, good light gathering ability make this my choice for my big and dangerous game rifle.
Date published: 2014-10-27
Rated

5

out of

5
by
tthor
from
Excellent Value
I've been running the MTAC on my Sig 556 SWAT rifle for close to a year now. It's actually my second MTAC; the first one I bought had a very slightly canted reticle (that I didn't notice at the time of purchase). Burris service was simply outstanding; I was sent a replacement scope pronto. The higher reticle illumination settings work in even the brightest sunlight. I wish the lowest setting was actually a little *dimmer* - it tends to wash out my night vision a bit on really dark nights. But that's a minor gripe. I really love the true 1X magnification at the low end - shooting with both eyes open is completely natural, making it a snap to rain down a little bad news on the local hog population. :-)
Date published: 2014-10-08
Rated

4

out of

5
by
Rastus
from
Great scope has me wanting a new one.
I love the scope's quality. I specifically bought this scope because of the 42mm objective light gathering ability and low power setting (1.5times). Brought it to a Larry Vickers carbine class for a week and it worked great. I'd buy 2 or 3 more if they would offer a 42mm in 1.0 x 4 or 6 power...the 1.5 works up close but it requires specific training to use the 1.5 as a dot. 1.0 power on low with 42mm would be a real winner for low light....you don't get to pick the worst day of your life at that may not occur in broad daylight.
Date published: 2015-09-07
Rated

5

out of

5
by
JCFD142
from
Great all around scope!
Got this scope in July to put on my AR. It is perfect for what I need it for. I use it for varmint control at the farm and home defense. The glass is clear and I really like that the brightness settings on the Reticle have an off position between each one. 1 power is not quite a true 1 power but it works well with the illumination turned up as a CQ/CB red dot scope. The Reticle works well as I have busted coyotes out to 200 with no problems. Overall, this is a perfect all around AR scope at a really good price!
Date published: 2015-12-10
I just purchased the Burris Mtac 1x4 illuminated scope. Can you recommend please a specific flip up scope over and the size that will fit?
Hello, I recommend Butler Creek sizes 02A and 16.
Date published: 2018-04-19
I'm looking for an optic for hog hunting with my .458 Socom. Is the ballistic reticle on this optic compatible with the .458 Socom round, or is it best suited for 5.56/.223? Also, can this optic withstand the high recoil of the .458 Socom?
Hello, The reticle will not match up with .458 as it is designed for 5.56. As for the recoil it will not be a problem. All Burris Optics are recoil rated to beyond .50BMG.
Date published: 2018-04-19
Can the reticle be changed from the Ballistic CQ to the Ballistic AR?
Unfortunately the MTAC is not eligible for reticle swaps.
Date published: 2018-04-11
Does this gather enough light for nighttime hog hunting?
Unfortunately do to a myriad of factors, that is not really a question that can be answered cut and dry. I have definitely used them at night, but ambient light factors heavily into nighttime shooting regardless of the light transmission of the optic being used.
Date published: 2018-03-28
Have Marlin 444 and want to buy a scope. 100 to 200 yards max. Would like one that I can somewhat mount forward so I don't have to crowd the scope with my eye....solid recoil with this one! Suggestions?
For this setup I recommend the Timberline. It wont add any undue bulk or weight to your setup, and is has a little extra eye relief for heavy hitters.
Date published: 2018-03-20
I'm looking at the mtac to put on a 12ga weatherby -459 tactical shotgun will the mtac handle the recoil of the shotgun I only shoot slugs and Buckshot in this gun
Yes you will be fine. All Burris Optics are rated to beyond .50BMG in both directions of recoil.
Date published: 2018-02-21
What is the center dot moa size on the Mtac 1x6x42 
it is a 2/3 MOA dot.
Date published: 2018-02-22
Where is the Burris MTAC 1-4 made?
The Philippines.
Date published: 2018-02-22