Droptine Binoculars
Droptine Binocular 8x42
Elevate your vision with the rugged, lightweight, and dependable Burris Droptine Binoculars. Equipped with a powerful 8x magnification, the Burris Droptine 8x42mm binoculars bring intricate details to life while providing a wide field of view, ensuring nothing gets missed.
For over half a century, hunters have entrusted their optics needs to Burris, and the Droptine binoculars proudly uphold the legacy of reliability, comfort, and unwavering performance. These binoculars seamlessly adapt to any hunting style, ensuring top-tier performance without slowing you down. Whether you're tracking eastern whitetail or western mule deer, the 8x magnification is perfectly tailored to the task at hand.
In-depth third party review of the Droptines, from TargetTamers.
MSRP: $299
Find a Dealer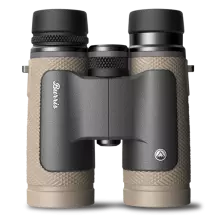 Specifications
| Item Number | MSRP | Magnification | Focus System | Optics System | Close Focus | Exit Pupil (low - high) | Eye Relief | IP Distance Range | Eyecups | Nitrogen Filled | Waterproof Depth | Weight | Dimensions | Neck Strap | Carry Case | Operating Temperature |
| --- | --- | --- | --- | --- | --- | --- | --- | --- | --- | --- | --- | --- | --- | --- | --- | --- |
| 300290 | $299 | 8x | Fast Focus | Roof Prism | 7.5 ft. | 5.2 mm | 17 mm | 57 - 74 mm | Adjustable, Aluminum | Yes | 1 meter | 26 oz. | 5.6(l) x 5.8(w) x 2.0(h) in. | Yes | Yes | 5°F to 131°F |