Image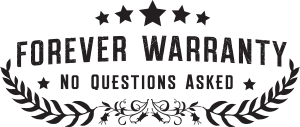 Forever Warranty
All Burris Optics (with the exception of Thermal products) are covered by the Burris Forever Warranty™. We will repair or replace your Burris optic if it is damaged or defective. The warranty is automatically transferred to future owners.
No repair or replacement charge
No warranty card needed
No receipt needed
No questions asked
The Burris Forever Warranty does not cover accessories, loss, theft, deliberate damage or cosmetic damage that does not hinder the performance of the product.
---
How It Works
For warranty service…
Please visit our support portal to submit a request for warranty service: 
Insure the shipment and keep the shipment tracking records. Burris can't be responsible for your product until we physically receive it.
Prepay the shipping charges and ship by mail, UPS, or other parcel service.
From within the U.S., send to Burris Company, Inc., 331 E. 8th Street, Greeley, CO 80631.
Outside the U.S., contact your nearest Burris distributor for shipping instructions.
Burris pays for shipping back to you.
---
Limited Thermal Warranty
The Burris Limited Thermal Warranty varies based on country. Click below to learn more:
---
Additional Legal Information
There are no other warranties, express or implied, contained herein, except such that may arise under certain state laws. In that event, said implied warranties are limited in scope and duration to the terms of this warranty.
Burris is not liable for incidental or consequential damages, including but not limited to lost profits or other economic or commercial losses.
This warranty gives the owner certain legal rights, and possibly other rights, which may vary from state to state.
Under the guidelines of the Consumer Protection Agency, this is considered a limited warranty.