Mounting Systems
Thermal Smartclip Adaptor
Quickly mount the Burris Thermal Clip-On (BTC) to your favorite riflescope using our Smarclip clip-on adapters. Options available are for 30-63.5mm objective lenses.
Screw on the adapter to your Burris Thermal Clip-On and secure to your optic's objective lens using a quick-detach cam lever.
***Size is determined by the outside diameter of your optics objective bell.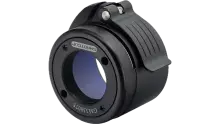 Specifications
| Item Number | MSRP | Description |
| --- | --- | --- |
| 626630 | $228 | Smartclip-30mm |
| 626631 | $228 | Smartclip-34mm |
| 626634 | $228 | Smartclip-49mm |
| 626638 | $228 | Smartclip-53mm |
| 626639 | $228 | Smartclip-56mm Ultra Slim Edition (U.S.E.) |
| 626640 | $228 | Smartclip-57mm Ultra Slim Edition (U.S.E.) |
| 626641 | $228 | Smartclip-58mm Ultra Slim Edition (U.S.E.) |
| 626642 | $228 | Smartclip-59mm |
| 626643 | $228 | Smartclip-62mm Ultra Slim Edition (U.S.E.) |
| 626645 | $228 | Smartclip-63.5mm |