This product has been discontinued.
FULLFIELD II RIFLESCOPES
Fullfield II™ Riflescope 6.5-20x50mm
The big dog in the Fullfield II line, the 6.5-20x50mm scope will get you out to some significant distances, and do it accurately.
This model of Fullfield II features adjustable parallax focus on the objective end.
20x magnification and the brilliant Ballistic Mil-Dot reticle make this a sharpshooter's delight. The big 50mm objective collects more light, giving you a nice bright view through the scope.
This scope is extremely popular with coyote hunters and prairie dog snipers.
Find a Dealer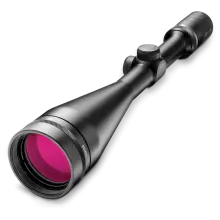 Specifications
| Item Number | MSRP | Reticles | Color | Knob Style | Illumination | Magnification | Objective Lens Diameter | Clear Objective Lens Diameter | Finish | Ocular Lens Diameter | Focal Plane | Main Tube Size | Field of View | Eye Relief | Exit Pupil (low - high) | Click Value | Elevation Adjustment, Total Capability | Windage Adjustment | Parallax/Focus | Adjustable Parallax | Length | Weight |
| --- | --- | --- | --- | --- | --- | --- | --- | --- | --- | --- | --- | --- | --- | --- | --- | --- | --- | --- | --- | --- | --- | --- |
| 200193DISCONTINUED | $263 | Ballistic Mil-Dot | Matte Black | Capped Hunter | No | 6.5-20x | 63 mm | 50 mm | Matte | 39 mm | Rear Focal Plane | 1 in. | 18 - 6 ft. | 3.1 – 3.6 in. | 7.6 - 2.5 mm | 1/4 MOA | 30 MOA | 30 MOA | Objective PA | 50 yds. – infinity | 14.5 in. | 19 oz. |
Fullfield II™ Riflescope 6.5-20x50mm Features
Features the Ballistic Mil-Dot reticle, ideal for very flat-shooting cartridges; perfect for long-range target shooters, varmint hunters, and tactical marksmen
Traditional mil-dots can be used for estimating range and target size, and compensating for wind drift
50 mm objective allows for maximum light collection
Parallax adjustment for improved accuracy at long distances
Popular and premium traditional hunting riflescope at an affordable price
High-grade optical glass provides excellent brightness and clarity with lasting durability
Quality, precision-ground lenses are larger than those of comparable scopes, for better light collection
Index-matched, Hi-Lume® multicoating aids in low-light performance and glare elimination, increasing your success rate
Durable, integrated-eyepiece design has no-slip grip for easy adjustment in the field
Positive steel-on-steel adjustments assure repeated accuracy
Waterproof
Nitrogen-filled scope tubes prevent fogging, even in cold and rain
Durable, stress-free, solid 1-piece outer tube withstands shock and vibrations of even the heaviest-recoiling calibers
1-in. body tube
Guaranteed by the Burris Forever Warranty™