Eliminator Laserscope
Eliminator IV LaserScope 4-16x50mm
Just aim, range, and shoot. It's that simple.
The new Eliminator IV features extended rangefinding capabilities out to 2,000 yards and enhanced ballistic calculator with more data and faster-aiming solutions. All this significantly increasing the distance at which you can make an ethical shot.
New wireless remote laser activation of the laser rangefinder has been added to make it easy to range your target. As always there's no need for a smartphone, app or separate handheld range finder! 
Prior to the hunt feed the Eliminator IV your cartridge's ballistic info and the scope calculates perfect holdover at your exact distance, estimates wind drift, then gives you the perfect aiming solution (bright red dot) — all at the push of a button. Just aim, range and shoot. It's that simple!
Four tools in one advanced optics including: precision optics, an internal digital inclinometer, smart dope card, and built-in laser range finder.
MSRP: $2,124
Find a Dealer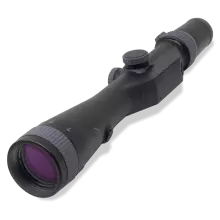 Specifications
| Item Number | MSRP | Reticles | Color | Knob Style | Illumination | Illumination Control | Illumination Settings | Combo Package | Magnification | Objective Diameter | Objective Lens Diameter | Finish | Ocular Diameter | Focal Plane | Main Tube Size | Field of View | Eye Relief | Exit Pupil (low - high) | Click Value | Elevation Adjustment, Total Capability | Windage Adjustment | Parallax/Focus | Parallax | Length | Weight | Battery |
| --- | --- | --- | --- | --- | --- | --- | --- | --- | --- | --- | --- | --- | --- | --- | --- | --- | --- | --- | --- | --- | --- | --- | --- | --- | --- | --- |
| 200133 | $2,124 | X96 | Matte Black | Capped Hunter | Yes | Push-button | 5 brightness settings | No | 4-16x | 65 mm | 50 mm | Matte | 42 mm | Rear Focal Plane | Direct Mount | 33 – 9ft. | 3.5 – 4 in. | 16 – 4.2 mm | 1/8 MOA | 50 MOA | 50 MOA | Objective PA | 30 yds. – infinity | 13.5 in. | 28.8 oz. | 2 x AAA |