This product has been discontinued.
T.M.P.R. SYSTEM PRISM SIGHT
T.M.P.R. Lasersight
The TMPR System's laser sight.
Custom designed to work seamlessly with either the T.M.P.R. 3 or T.M.P.R. 5 System.
The TMPR Laser Sight is perfect for low-light fast-action tactical shooting and home defense.
Red Laser.
As a TMPR component, the Laser uses the large battery of the TMPR Sight, providing more power and lower weight than it would get relying on just its own battery power.
Find a Dealer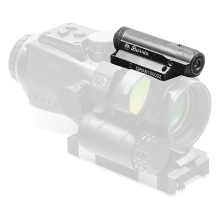 Specifications
| Item Number | MSRP | Description | Color | Illumination | Combo Package | Elevation Adjustment, Total Capability | Windage Adjustment | Length | Weight | Battery |
| --- | --- | --- | --- | --- | --- | --- | --- | --- | --- | --- |
| 300221 | $119 | Red Laser | Matte Black | No | No | 120 MOA | 120 MOA | 0.78 in. | 1.5 oz. | 3x LR 44 batteries |