This product has been discontinued.
AR Riflescopes™
AR Riflescope™ 4.5-14x42mm
The Burris AR Riflescope Family is a small one: just this 4.5-14x scope.  While the family is small, this scope is big in features, and gives you the chance to push your AR rifle out to some very big distances.
There are two different 4.5-14x models, one calibrated for 5.56 caliber, and one for 7.62 caliber.
Find a Dealer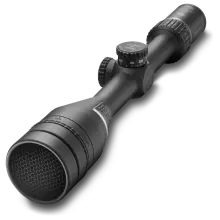 Specifications
| Item Number | MSRP | Description | Reticles | Color | Knob Style | Illumination | Combo Package | Magnification | Objective Diameter | Objective Lens Diameter | Finish | Ocular Diameter | Focal Plane | Main Tube Size | Field of View | Eye Relief | Exit Pupil (low - high) | Click Value | Elevation Adjustment, Total Capability | Windage Adjustment | Parallax/Focus | Parallax | Length | Weight |
| --- | --- | --- | --- | --- | --- | --- | --- | --- | --- | --- | --- | --- | --- | --- | --- | --- | --- | --- | --- | --- | --- | --- | --- | --- |
| 200333 | $479 | Calibrated to 5.56 | C4 Wind MOA™ | Matte Black | Exposed Tactical | No | No | 4.5-14x | 56 mm | 42 mm | Matte | 39 mm | Rear Focal Plane | 1 in. | 22 - 7.5 ft. | 3.1 – 3.8 in. | 9 - 3 mm | 1/4 MOA | 42 MOA | 42 MOA | Objective PA | 50 yds. – infinity | 13 in. | 18 oz. |
| 200334 | $479 | Calibrated for 7.62 | C4 Wind MOA™ | Matte Black | Exposed Tactical | No | No | 4.5-14x | 56 mm | 42 mm | Matte | 39 mm | Rear Focal Plane | 1 in. | 22 - 7.5 ft. | 3.1 – 3.8 in. | 9 - 3 mm | 1/4 MOA | 42 MOA | 42 MOA | Objective PA | 50 yds. – infinity | 13 in. | 18 oz. |