This product has been discontinued.
XTR III Riflescopes
XTR III 3.3-18x50mm
The smaller of the two XTR III models, the 3.3-18x50 model provides huge field-of-view in a relatively compact scope package (13.3 inches). The 3.3-18x50 model offers a huge 120 MOA of elevation.
Make your XTR III even faster by adding a Race Dial and a custom Throw Lever!
All three models are discontinued:
SCR Mil Reticle #201200: MSRP $1,929
SCR MOA Reticle #201201: MSRP $1,929
SCR 2 MIL Reticle #201202: MSRP $1,999
Find a Dealer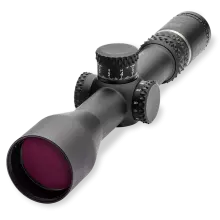 Specifications
| Item Number | Reticles | Color | Knob Style | Illumination | Magnification | Objective Diameter | Objective Lens Diameter | Finish | Ocular Diameter | Focal Plane | Main Tube Size | Field of View | Eye Relief | Exit Pupil (low - high) | Click Value | Elevation Adjustment, Total Capability | Windage Adjustment | Parallax/Focus | Length | Weight |
| --- | --- | --- | --- | --- | --- | --- | --- | --- | --- | --- | --- | --- | --- | --- | --- | --- | --- | --- | --- | --- |
| 201200 | SCR™ Mil | Matte Black | MAD Knobs | No | 3.3-18x | 58 mm | 50 mm | Matte | 44.25 mm | Front Focal Plane | 34 mm | 37.7 - 6.8 ft. | 3.25 - 4 in. | 8.6 - 2.7 mm | 1/10 mil | 35 mil | 16 mil | 25 yds to infinity | 13.3 in. | 29.8 oz. |
| 201201 | SCR™ MOA | Matte Black | MAD Knobs | No | 3.3-18x | 58 mm | 50 mm | Matte | 44.25 mm | Front Focal Plane | 34 mm | 37.7 - 6.8 ft. | 3.25 - 4 in. | 8.6 - 2.7 mm | 1/4 MOA | 120 MOA | 55 MOA | 25 yds to infinity | 13.3 in. | 29.8 oz. |
| 201202 | SCR 2™ | Matte Black | MAD Knobs | No | 3.3-18x | 58 mm | 50 mm | Matte | 44.25 mm | Front Focal Plane | 34 mm | 37.7 - 6.8 ft. | 3.25 - 4 in. | 8.6 - 2.7 mm | 1/10 mil | 35 mil | 16 mil | 25 yds to infinity | 13.3 in. | 29.8 oz. |