Signature HD Range Spotting Scope
Take glassing to a higher level with Burris' Signature HD Spotting Scope. With a 20-60x magnification range, you can save time and boot leather by finding and evaluating trophy animals from a mountain away.
MSRP: $1,968
Find a Dealer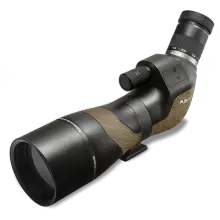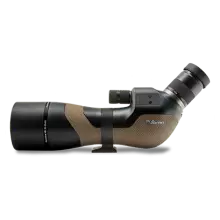 Take the field advantage.
The Signature HD Range Spotting Scopes HD lenses and apochromatic lens system give you the advantage in the field by eliminating color fringing and delivering edge-to-edge resolution at any magnification.
Specifications
| Item Number | MSRP | Magnification | Field of View | Eye Relief | Length | Weight |
| --- | --- | --- | --- | --- | --- | --- |
| 300102 | $1,968 | 20-60x | 117-60 ft. | 20-18mm | 15.3 in. | 67.2 oz. |
Signature HD Range Spotting Scope Features
FastFire Attachment
The Burris FastFire red dot sight can be easily attached, and provides an incredibly fast, accurate way to acquire your target. No more getting lost in the magnification when sighting down field. Two attachment points, on either side of the Signature HD, are provided. (FastFire sold separately)
Neoprene Carry Case and Protective Cover
The Signature HD comes with a thick neoprene cover that keeps the spotting scope dry, clean, and protected from inadvertent dings and scratches. Custom fitted to the Signature HD, the cover has removable lens covers and strategic openings that allow full use of the scope without needing to remove the cover. There are attachment points for the included carry strap.
An optional fixed power 30x eyepiece provides even more range, detail and a wide field-of-view. Available with your reticle choice of a SCR Mil and SCR MOA. Easy to install.
Item #626200: 30x Eyepiece, no reticle
Item #626201: 30x Eyepiece, SCR Mil reticle (reticle details)
Item #626202: 30x Eyepiece, SCR MOA reticle (reticle details)
Argon gas purging ensures waterproof, fog proof performance under extreme temperatures
Premium HD glass for optimum resolution and maximum light transmission under any lighting condition
The index-matched lenses eliminate color aberrations and produce true color fidelity across the visible light spectrum
Built-in sun shade reduces glare and protects the objective lens from rain and snow
Both coarse and fine focusing adjustment are possible with the forward mounted focus knob
Eyecup can be adjusted to accommodate eyeglasses
Lightweight, durable design with a die-cast magnesium body that is armored for greater protection in the field
Angled eyepiece and rotating tripod mount makes it easy to use whether you're standing or prone