This product has been discontinued.
MTAC Riflescopes
MTAC 1-4x24mm Tactical Kit
All MTAC 1-4x scopes are illuminated.  Available kits include the scope, a Fastfire 3, and a P.E.P.R.™ mount, making for an immediate and full-on tactical optics system.
Available with the Ballistic CQ reticle or Ballistic AR reticle.
While it was designed for 3-gun and close-quarter engagements, the MTAC 1-4x has also developed a following for short range hunting, big-game stalking and dangerous game.
Find a Dealer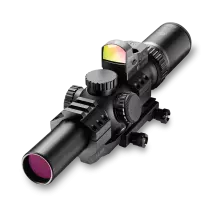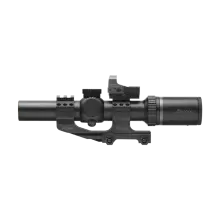 This MTAC scope Tactical Kit includes a 1-4x24mm MTAC riflescope, a Burris AR-P.E.P.R.™ mount, and a Burris FastFire 3.
MTAC riflescopes have developed a huge following in 3gun as well as short range or dangerous game hunting, due to their competitive pricing, along with solid features like deep eye relief, fast zoom ring, and illuminated reticles.
Find out more about the MTAC scope family here.
FASTFIRE 3: The FastFire included with this kit is a 3-MOA dot. It works perfectly with the MTAC scope to ensure that you can make extremely close and quick shots with the co-mounted red dot, and then switch to the scope for short to medium range distances.
PEPR Mount: The AR-P.E.P.R. Mount is designed to get the exact eye-placement needed for AR rifles.
There are five different MTAC 1-4x tactical kits to pick from:
200437-FF is matte black, with Ballistic CQ reticle
200426-FF is matte black, with Ballistic AR reticle
200465 is Prym 1 Blackout, with Ballistic AR reticle
200467 is Prym 1 Sandstorm, with Ballistic AR reticle
200438-FF is our special SkullTac™ pattern, with Ballistic CQ reticle