This product has been discontinued.
AR Riflescopes™
AR-1X™
Don't miss a thing with both-eyes-open shooting. Push-button activation lets you choose between green, red, or black reticle settings. One lithium battery yields up to 5,000+ hours of service. The black reticle is etched onto the prism, so you can use the optic even without battery power.
Easy-to-see reticle hash marks offer trajectory compensation to 600 yards. Lens coatings are maximized for glare resistance and low-light operation, and the sight is night-vision compatible.
Its compact design leaves room on your rail for a flip-out AR-Tripler™.
Find a Dealer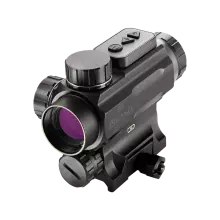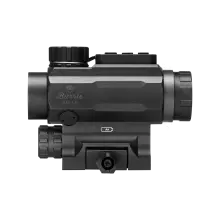 Specifications
| Item Number | MSRP | Description | Reticles | Kit | Color | Illumination | Illumination Settings | Combo Package | Magnification | Objective Lens Diameter | Finish | Field of View | Eye Relief | Click Value | Elevation Adjustment, Total Capability | Windage Adjustment | Parallax/Focus | Length | Weight | Battery |
| --- | --- | --- | --- | --- | --- | --- | --- | --- | --- | --- | --- | --- | --- | --- | --- | --- | --- | --- | --- | --- |
| 300214DISCONTINUED | $335 | AR-1X™ | Ballistic CQ™-1X | - | Matte Black | No | 5 red settings; 5 green settings; off is black | No | 1x | 20 mm | Matte | 75 ft. | 2.7 in. | 1/2 MOA | 120 MOA | 120 MOA | < 1 MOA @ 100 yds. | 4 in. | 13.2 oz. | AA |
| 300219DISCONTINUED | $335 | Combo Kit | Ballistic CQ™-1X | Yes | Matte Black | No | 5 red settings; 5 green settings; off is black | Yes | 1x | 20 mm | Matte | 75 ft. | 2.7 in. | 1/2 MOA | 120 MOA | 120 MOA | < 1 MOA @ 100 yds. | 4 in. | 13.2 oz. | AA |