This product has been discontinued.
XTR II Riflescopes
XTR II™ Riflescope 5-25x50mm
The Burris XTR II 5-25x50mm is available with G2B, SCR Mil or SCR MOA reticles. There is also a non-illuminated SCR version, and new this year is a Flat Dark Earth model.
It's protected forever by the Burris Forever Warranty™.
Find a Dealer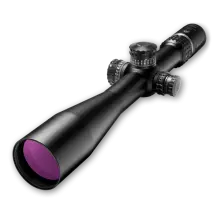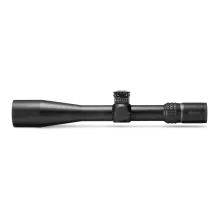 Specifications
| Item Number | MSRP | Description | Reticles | Color | Knob Style | Illumination | Illumination Control | Illumination Settings | Magnification | Objective Diameter | Objective Lens Diameter | Finish | Ocular Diameter | Focal Plane | Main Tube Size | Field of View | Eye Relief | Exit Pupil (low - high) | Click Value | Elevation Adjustment, Total Capability | Windage Adjustment | Parallax/Focus | Parallax | Length | Weight | Battery |
| --- | --- | --- | --- | --- | --- | --- | --- | --- | --- | --- | --- | --- | --- | --- | --- | --- | --- | --- | --- | --- | --- | --- | --- | --- | --- | --- |
| 201051 | $1,499 | Mil based SCR | SCR Mil | Matte Black | Exposed Tactical | Yes | Rotary dial; intermediate battery-saver stops | 11 brightness settings | 5-25x | 58 mm | 50 mm | Matte | 44.25 mm | Front Focal Plane | 34 mm | 21 - 4.3 ft. | 3.5 - 4.25 in. | 10 - 2 mm | 1/10 mil | 90 MOA | 55 MOA | Side focus / PA | 50 yds. – infinity | 16.31 in. | 32.1 oz. | CR2032 |
| 201052 | $1,499 | MOA based SCR | SCR™ MOA | Matte Black | Exposed Tactical | Yes | Rotary dial; intermediate battery-saver stops | 11 brightness settings | 5-25x | 58 mm | 50 mm | Matte | 44.25 mm | Front Focal Plane | 34 mm | 21 - 4.3 ft. | 3.5 - 4.25 in. | 10 - 2 mm | 1/4 MOA | 90 MOA | 55 MOA | Side focus / PA | 50 yds. – infinity | 16.31 in. | 32.1 oz. | CR2032 |
| 201056DISCONTINUED | $1,559 | Flat Dark Earth (FDE) Mil Based SCR | SCR Mil | FDE | Exposed Tactical | Yes | Rotary dial; intermediate battery-saver stops | 11 brightness settings | 5-25x | 58 mm | 50 mm | Flat Dark Earth | 44.25 mm | Front Focal Plane | 34 mm | 21 - 4.3 ft. | 3.5 - 4.25 in. | 10 - 2 mm | 1/10 mil | 90 MOA | 55 MOA | Side focus / PA | 50 yds. – infinity | 16.31 in. | 32.1 oz. | CR2032 |
| 201053DISCONTINUED | $1,439 | Mil-based G2B | G2B Mil-Dot™ | Matte Black | Exposed Tactical | Yes | Rotary dial; intermediate battery-saver stops | 11 brightness settings | 5-25x | 58 mm | 50 mm | Matte | 44.25 mm | Front Focal Plane | 34 mm | 21 - 4.3 ft. | 3.5 - 4.25 in. | 10 - 2 mm | 1/10 mil | 90 MOA | 55 MOA | Side focus / PA | 50 yds. – infinity | 16.31 in. | 32.1 oz. | CR2032 |
| 201054DISCONTINUED | $1,319 | NON ILLUMINATED, Mil based SCR | SCR Mil | Matte Black | Exposed Tactical | No | N/A | N/A | 5-25x | 58 mm | 50 mm | Matte | 44.25 mm | Front Focal Plane | 34 mm | 21 - 4.3 ft. | 3.5 - 4.25 in. | 10 - 2 mm | 1/10 mil | 90 MOA | 55 MOA | Side focus / PA | 50 yds. – infinity | 16.31 in. | 32.1 oz. | N/A |
XTR II™ Riflescope 5-25x50mm Features
Designed for serious, technical, long-range precision rifle shooters—both tactical and competitive
Front focal plane reticle design allows the reticle size to increase or decrease as magnification is increased or decreased; trajectory compensation is always correct and proportional for the selected power setting; also called first focal plane or FFP
Ergonomic side focus and easy-to-reach parallax adjustment from 50 yds. to infinity, for improved accuracy at long distances
34 mm body tube
Excellent resolution optics and tactical-appropriate reticles and adjustment knobs make it easier to identify targets and adjust for windage and elevation
Versatile 5-times zoom system allows for a larger field of view at close ranges and better target acquisition at long ranges
Zero Click Stop adjustment knobs let you quickly and easily revert back to the original yardage setting without counting clicks
Advanced windage and elevation adjustments are fast and easy; accurate and repeatable reticle adjustments match the measurement system of the reticle
High-grade optical glass provides excellent brightness and clarity with lasting durability
Index-matched Hi-Lume® multicoating aids in low-light performance and glare elimination, increasing your success rate
Illuminated reticle reduces time to get on target in any lighting condition and dramatically increases accuracy when target is dark
11 brightness settings (spanning night vision, low light, and daytime), with a convenient battery-saver position between each setting
Triple internal spring-tension system allows the scope to hold zero through shock, recoil, and vibrations
Waterproof
Nitrogen-filled body tubes prevent internal fogging in the cold and rain
Precision-gauged and hand-fitted internal assemblies maintain a consistent point of impact through the magnification range, regardless of shock and vibration
Solid, 1-piece outer tube is stress-free and durable; withstands shock and vibration from even the heaviest-recoiling calibers
Covered by the Burris Forever Warranty™
Mulitple reticle choices, with the SCR™ (special competition reticle) in MOA or MIL, illuminated or non-illuminated, or the mil-based G2B Mil-Dot™ front focal plane reticle
Features XT-100 click adjustment knob, with 100 clicks per rotation and 20% more adjustment rotation than XT-80 knobs; can take most tactical calibers out past 1,000 yards in a single turn; knob provides easier calculations, faster adjustments, and less chance of getting lost on the dial
An extended illumination area lets you engage targets at long distances, even in low light (illuminated models only)
Mil-based reticles feature 1/2-mil marks for distance holdover; horizontal crosshair offers 1-mil and 2/10-mil lines for windage hold-off
MOA-based vertical crosshairs feature 1-MOA marks for distance holdover; horizontal crosshair offers 1/2-MOA and 1-MOA lines for windage hold-off
1/10-mil ranging brackets at the top, left extreme, and right extreme of the crosshair, for precise ranging
1/4-MOA ranging brackets at the top, left extreme, and right extreme of the crosshair, for precise ranging
Mil multi-turn adjustment knobs have a 1/10-mil click value adjustment and feature true Zero Click Stop; knobs offer 10 mils per rotation, with multi revolutions of adjustment
MOA multi-turn adjustment knobs have a 1/4-MOA click value adjustment and feature true Zero Click Stop; knobs offer 10 mils per rotation, with multi revolutions of adjustment