This product has been discontinued.
MTAC Riflescopes
MTAC™ Riflescope 1.5-6x42mm
The big brother MTAC moves from 1-4x to 1.5-6x. That extra magnification can make a big difference when the range officers move those targets a few hundred yards further out.
This compact model is perfect for 3-Gun, close quarter battle (CQB), or big-game stalking.
Available with the  Ballistic AR reticle (200439) or the Ballistic CQ reticle.
And the warranty is forever.
Find a Dealer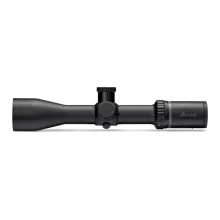 Specifications
| Item Number | MSRP | Description | Reticles | Color | Knob Style | Illumination | Illumination Control | Illumination Settings | Magnification | Objective Diameter | Objective Lens Diameter | Finish | Ocular Diameter | Focal Plane | Main Tube Size | Field of View | Eye Relief | Exit Pupil (low - high) | Click Value | Elevation Adjustment, Total Capability | Windage Adjustment | Length | Weight | Battery |
| --- | --- | --- | --- | --- | --- | --- | --- | --- | --- | --- | --- | --- | --- | --- | --- | --- | --- | --- | --- | --- | --- | --- | --- | --- |
| 200429DISCONTINUED | $479 | Ballistic CQ | Ballistic CQ™ | Matte Black | Capped Tactical | Yes | Rotary dial; intermediate battery-saver stops | 10 brightness settings | 1.5 - 6x | 46 mm | 42 mm | Matte | 39 mm | Rear Focal Plane | 30 mm | 33 – 13 ft. | 3.1 – 3.8 in. | 27 - 7 mm | 1/2 MOA | 80 MOA | 80 MOA | 12.2 in. | 15.5 oz. | CR2032 |
| 200439DISCONTINUED | $479 | Ballistic AR | Ballistic 5X™ | Matte Black | Capped Tactical | Yes | Rotary dial; intermediate battery-saver stops | 10 brightness settings | 1.5 - 6x | 46 mm | 42 mm | Matte | 39 mm | Rear Focal Plane | 30 mm | 33 – 13 ft. | 3.1 – 3.8 in. | 27 - 7 mm | 1/2 MOA | 80 MOA | 80 MOA | 12.2 in. | 15.5 oz. | CR2032 |
MTAC™ Riflescope 1.5-6x42mm Features
The fast-action Ballistic CQ™ reticle was designed for competitive shooters and law enforcement and military operators
Low-magnification, bright, fast-action reticle also serves dangerous game hunters well
Circular, center "donut" provides ultra-fast engagement at close distances
Smaller reticle dots provide trajectory compensation out to 600 yds. for the 5.56 and 7.62 cartridges
Illuminated reticle gets you on target faster in any lighting condition and increases accuracy when the target is dark
Elevation and windage dials are calibrated to 1 click = 0.5 MOA; both can be reset to 0 once the scope is sighted in
Generous eye relief up to 4 in. for comfortable shooting
Ergonomic power ring for easy grip and quick power setting changes
Finger-adjustable MTAC mil-rad target knobs for easy precision adjustments
Rubber-coated eye piece provides protection, comfort, and style
High-grade optical glass provides excellent brightness and clarity with lasting durability
Index-matched, Hi-Lume® multicoating aids in low-light performance and glare elimination, increasing your success rate
Compatible with night-vision technology
Double internal spring-tension system means scope holds zero through shock, recoil, and vibrations
Waterproof
Nitrogen-filled scope tubes prevent fogging even in cold and rain
Precision-gauged, hand-fitted assemblies maintain a consistent point of impact through the magnification range, regardless of shock and vibration
Durable, stress-free, solid 1-piece outer tube withstands shock and vibrations of even the heaviest-recoiling calibers
30 mm body tube
Guaranteed by the Burris Forever Warranty™