Ballistic Plex E1™ FFP (2-10x and 3-15x)
The Ballistic Plex E1 FFP reticle features trajectory compensation out to 600 yards and is used on our lower magnification Veracity scopes.
It is slightly different in design than the Ballistic Plex E1 FFP used on the 4-20x and 5-25x models.
MOA reticle.
Cascading dots to the left and right of the reticle help quickly and easily compensate for crosswind.
Dots represent a 10 m.p.h. wind hold-off (+/- 1.5 in. at 400 yds.) for most hunting cartridges.
You adjust for 5 or 20 m.p.h. crosswind by halving or doubling the dot distance.
Front focal plane design means trajectory compensation and wind hold-off references are accurate at any magnification. Bold, tapered crosshairs in an FFP design make the reticle highly usable, ensuring its visibility even on low power.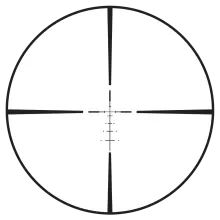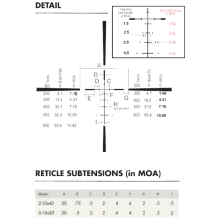 Ballistic Plex E1™ FFP (2-10x and 3-15x) Products