Ballistic Plex E1™ MV
The Ballistic Plex E1 MV is available in the Fullfield E1™ Riflescope 6.5-20x50mm model.
At the 20x power setting, it is calibrated specifically for the .22-250 cartridge. It also works well for other very flat-shooting cartridges.
Long-range accuracy with trajectory compensation out to 700 yards
Integrated mil measuring tools help calculate target distance and size
Trajectory-compensating technology and cascading dots help you quickly and easily adjust for wind
Dots represent hold-off for a 10 m.p.h. crosswind (+/- 1.5 in. at 400 yds.)
You adjust for 5 or 20 m.p.h. crosswind by halving or doubling the dot distance
Mil measurement tools aid in calculating distance and target size
Ballistic Calibration examples for this scope.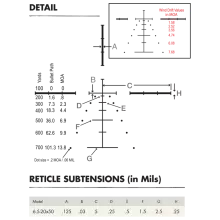 Ballistic Plex E1™ MV Products