Thermal Optics
BTS35 v2
The V2 Burris Thermal Scope (BTS) is packed with features that will help you take night hunting to a whole new level! Offering 4 power zoom, hot track, stadiametric ranging, and 5 unique color palettes – this scope is packed with features to help you own the night.
Find a Dealer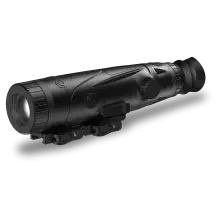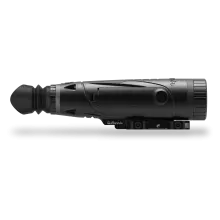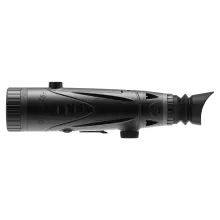 Hunt All Night.
Image

Enhance your nighttime hunting experience with the advanced V2 Burris Thermal Riflescope. This state-of-the-art thermal riflescope features a rechargeable battery for prolonged use, Next-Gen imaging for superior visuals, and an American Defense Mfg Quick-Detach Picatinny Mount with an adjustable cantilever for fast and effortless mounting. The cutting-edge BTS model sets a new standard for exceptional thermal performance.
Specifications
| Item Number | Resolution | Pixel Size | Focal Length | Focusing | Visual Angle | Frame Rate | Digital Zoom | Eye Relief | Dioptric Compensation | Screen | Color Palettes | Magnification | Adapter/Battery | Working Hours | Mounting Type | Weight | Dimensions |
| --- | --- | --- | --- | --- | --- | --- | --- | --- | --- | --- | --- | --- | --- | --- | --- | --- | --- |
| 300617 | 400 x 300 | 12µm | 35mm F1.0 | Manual Focus | 7.8º x 5.9º | 50Hz | 1x - 4x | 48 mm | -4 to +4 | 1024 x 768 | Black hot | White hot | Red hot 1, 2, and 3 | Green hot | Blue hot | 3.2x - 12.7x | USB-C | ≥5 hours @25°C | QD M1913 Picatinny Rail Mount with adjustable cantilever | 31 oz. | 294mm x 80mm x 78.5mm |
Image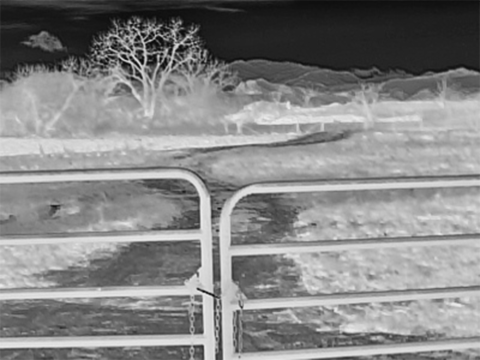 WHITE HOT
Objects with higher temperatures
are shown in white or light gray. 
 
Image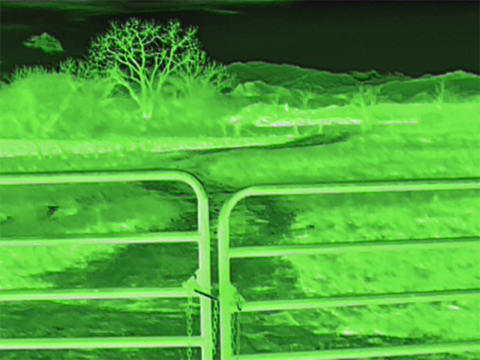 GREEN HOT
Objects with higher temperatures
are shown in lighter green. 
Image
BLACK HOT
Objects with higher temperatures
are shown in black or dark gray.
 
Image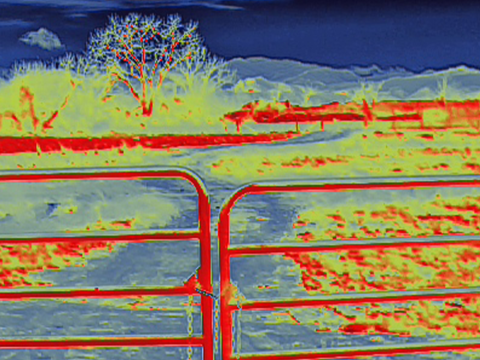 BLUE HOT
Objects with lower temperatures are shown in blue
or dark blue and higher temperatures are shown in red and yellow. 
Image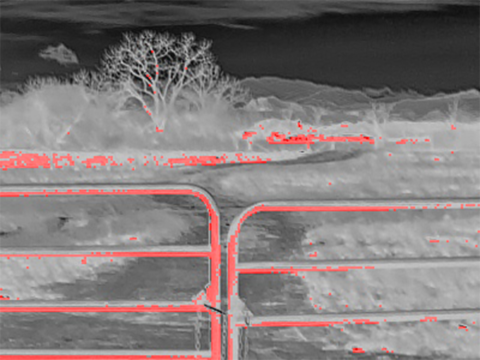 RED HOT
Objects with higher temperatures are shown in red. Users can adjust the intensity of the red in the color profile under the Thermal Settings drop-down, then Thermal Intensity. 
Image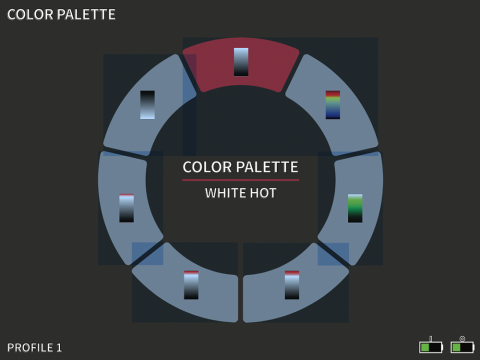 COLOR PALETTE
Choose between five different
color palettes to best fit your hunting needs.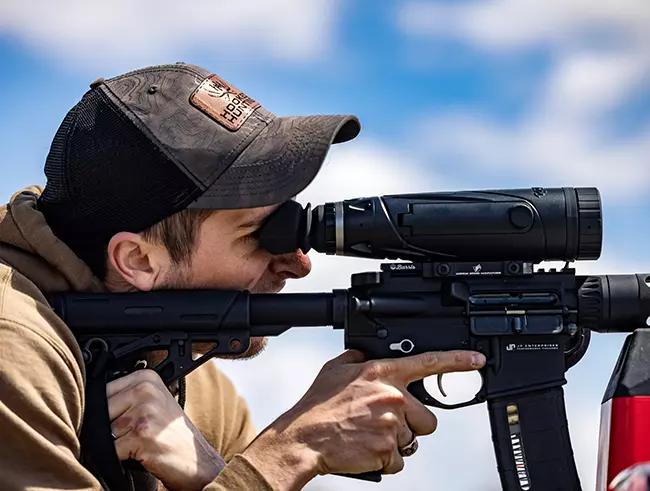 Never Run Out of Battery.
Quickly swap your battery or connect to an external power source to never miss an opportunity.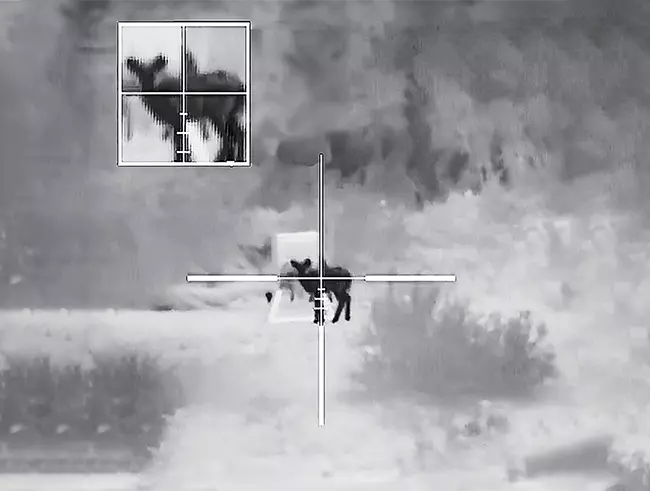 Picture in Picture.
When the PIP window image is on a 2x magnification of the main image is in the display.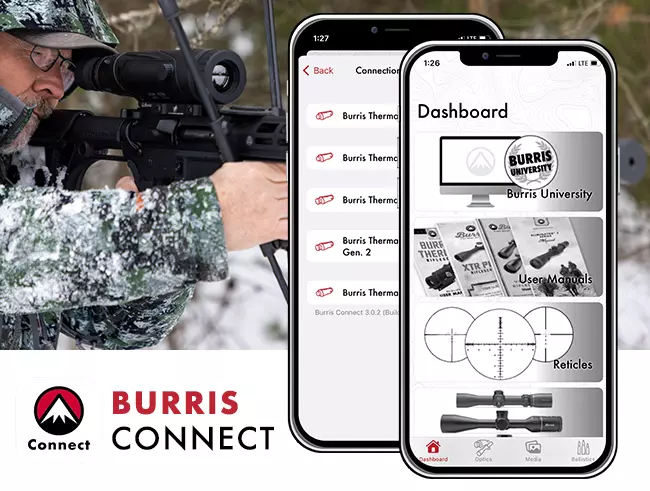 BurrisConnect
The V2 Burris Thermal Scope (BTS) pairs with the new-and-improved BurrisConnect App to create and upload custom ballistic profiles. The BurrisConnect app allows hunters to create rifle profiles and input environmental factors for their hunt. The app uses custom ballistic calculators to help hunters precisely dial their turrets for an accurate shot. With the V2 Burris Thermal Scope (BTS) and the BurrisConnect app, Burris does the math for you so you can dial to distance faster than ever.
BTS35 v2 Features
APP CONNECTIVITY
Real-time video streaming and photo capture capability
Remote control of numerous device settings
SENSOR RESOLUTION (CORE)
400X300 VOX Sensor W/50HZ Refresh Rate & 12µM Pixel Pitch
Next-gen IR imaging performance from new 12µm pixel pitch sensor allows high performance with smaller, lighter objective lenses
Clear and crisp imaging with high performance 35mm F1.0 lens
Generous 7.8°x5.9° FOV
POWER AND RUN TIME
1x Internal 18650 cell + 1x Replaceable 18650 with 5+ hours of runtime
External battery hot-swap capable
Uses improved, easier to find, long format, 18650 batteries with circuit protection
Live charging of internal cell
USER INTERFACE/ APP CONNECTIVITY
New GUI uses an intuitive menu navigation system combined with rotary knob hardware to make changes rapidly and get back to the action
Users can select between 10 unique and customizable reticles
OTHER FEATURES
Includes American Defense Mfg Quick-Detach m1913 Picatinny Mount with adjustable cantilever for ultimate compatibility with many types of rifle systems
Fine Diopter adjustment
Robust 800G shutter for shockproof performance
IP67 Waterproof Performance