Fullfield E1
Fullfield E1™ Riflescope 4.5-14x42mm
The Fullfield E1 4.5-14x42mm is a great option for those looking for a little more magnification over the 3-9x, but still looking for a wide field-of-view. Perfect for the hunter looking to extend shots such as hunting a field edge, or being extra precise when the moment of the shot presents itself. 
This model of Fullfield E1 features side-adjusting parallax focus and Ballistic Plex E1 hunting reticle. 
High-grade glass provides excellent brightness and clarity with lasting durability. Index-matched, Hi-Lume® multicoating aids in low-light performance and glare elimination, increasing your success rate.
The double internal spring-tension system allows the scope to hold zero through shock, recoil, and vibrations.
MSRP: $287
Find a Dealer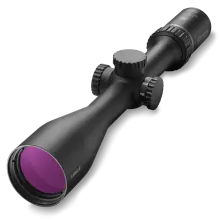 Specifications
| Item Number | MSRP | Reticles | Color | Knob Style | Illumination | Magnification | Objective Lens Diameter | Clear Objective Lens Diameter | Finish | Ocular Lens Diameter | Focal Plane | Main Tube Size | Field of View | Eye Relief | Exit Pupil (low - high) | Click Value | Elevation Adjustment, Total Capability | Windage Adjustment | Parallax/Focus | Length | Weight |
| --- | --- | --- | --- | --- | --- | --- | --- | --- | --- | --- | --- | --- | --- | --- | --- | --- | --- | --- | --- | --- | --- |
| 200338 | $287 | Ballistic Plex E1™ | Matte Black | Capped Hunter | No | 4.5-14x | 51.5 mm | 42 mm | Matte | 39 mm | Rear Focal Plane | 1 in. | 22 - 7.5 ft. | 3.1 – 3.8 in. | 9 - 3 mm | 1/4 MOA | 40 MOA | 40 MOA | 50 yds to infinity | 12.6 in. | 15.3 oz. |
Fullfield E1™ Riflescope 4.5-14x42mm Features
High magnification extends your long-range shooting capability
Features the Ballistic Plex E1™ reticle, a quick, simple, accurate reticle
Trajectory-compensating technology and cascading dots to compensate for wind drift
Designed for enthusiasts who want a simple, yet sophisticated, reticle for supreme accuracy
Ergonomic side focus allows easy-to-reach parallax adjustment from 50 yds. to infinity
Finger-adjustable windage and elevation turrets create a sleek profile
Turret indications always reflect a change in the point of impact, for pinpoint accuracy
Separated power ring and eyepiece design accepts flip-up lens covers
High-grade optical glass provides excellent brightness and clarity with lasting durability
Index-matched, Hi-Lume® multicoating aids in low-light performance and glare elimination, increasing your success rate
The double internal spring-tension system allows the scope to hold zero through shock, recoil, and vibrations
Positive steel-on-steel adjustments ensure repeatable accuracy
Waterproof
Nitrogen-filled scope tubes prevent internal fogging, even in cold and rain
Durable, stress-free, solid 1-piece outer tube withstands shock and vibrations of even the heaviest-recoiling calibers
1-in. body tube
Guaranteed by the Burris Forever Warranty™