Fullfield E1
Fullfield E1™ Riflescope 3-9x40mm
The 3-9x is the absolute staple for American hunters in all sorts of terrain and conditions.
Featuring our tried and true Ballistic Plex and Ballistic Plex E1 reticles, cascading windage and elevation dots keep you on target when seconds counts. 
This series of riflescope is rugged enough to handle a lifetime of field use, heavy recoil, and harsh vibration such as bouncing around in your side by side or back of your hunting rig. It is protected by the Burris Forever Warranty™.
MSRP Starting at $191.99
Find a Dealer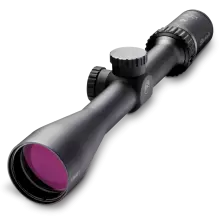 Specifications
| Item Number | MSRP | Description | Reticles | Color | Knob Style | Illumination | Magnification | Objective Diameter | Objective Lens Diameter | Finish | Ocular Diameter | Focal Plane | Main Tube Size | Field of View | Eye Relief | Exit Pupil (low - high) | Click Value | Elevation Adjustment, Total Capability | Windage Adjustment | Parallax/Focus | Length | Weight |
| --- | --- | --- | --- | --- | --- | --- | --- | --- | --- | --- | --- | --- | --- | --- | --- | --- | --- | --- | --- | --- | --- | --- |
| 200320DISCONTINUED | $240 | - | Ballistic Plex E1™ | Matte Black | Capped Hunter | No | 3-9x | 48 mm | 40 mm | Matte | 39 mm | Rear Focal Plane | 1 in. | 33 – 13 ft. | 3.1 – 3.4 in. | 13 - 5 mm | 1/4 MOA | 50 MOA | 50 MOA | Fixed 100 yards | 12.2 in. | 13 oz. |
| 200346 | $192 | Shotgun | Ballistic Plex™ | Matte Black | Capped Hunter | No | 3-9x | 48 mm | 40 mm | Matte | 39 mm | Rear Focal Plane | 1 in. | 33 – 13 ft. | 3.1 – 3.4 in. | 13 - 5 mm | 1/4 MOA | 50 MOA | 50 MOA | Fixed 50 yards | 12.2 in. | 13 oz. |
| 200347 | $192 | Muzzleloader | Ballistic Plex™ | Matte Black | Capped Hunter | No | 3-9x | 48 mm | 40 mm | Matte | 39 mm | Rear Focal Plane | 1 in. | 33 – 13 ft. | 3.1 – 3.4 in. | 13 - 5 mm | 1/4 MOA | 50 MOA | 50 MOA | Fixed 50 yards | 12.2 in. | 13 oz. |
| 200348 | $192 | .450 Bushmaster | Ballistic Plex™ | Matte Black | Capped Hunter | No | 3-9x | 48 mm | 40 mm | Matte | 39 mm | Rear Focal Plane | 1 in. | 33 – 13 ft. | 3.1 – 3.4 in. | 13 - 5 mm | 1/4 MOA | 50 MOA | 50 MOA | Fixed 50 yards | 12.2 in. | 13 oz. |
| 200366 | $192 | .350 Legend | Ballistic Plex™ | Matte Black | Capped Hunter | No | 3-9x | 48 mm | 40 mm | Matte | 39 mm | Rear Focal Plane | 1 in. | 33 – 13 ft. | 3.1 – 3.4 in. | 13 - 5 mm | 1/4 MOA | 50 MOA | 50 MOA | Fixed 50 yards | 12.2 in. | 13 oz. |
Fullfield E1™ Riflescope 3-9x40mm Features
Designed for enthusiasts who want a simple, yet sophisticated, reticle for supreme accuracy
Most popular and versatile model
Finger-adjustable windage and elevation turrets create a sleek profile
Turret indications always reflect a change in the point of impact, for pinpoint accuracy
Separated power ring and eyepiece design accepts flip-up lens covers
High-grade optical glass provides excellent brightness and clarity with lasting durability
Index-matched, Hi-Lume® multicoating aids in low-light performance and glare elimination, increasing your success rate
The double internal spring-tension system allows the scope to hold zero through shock, recoil, and vibrations
Positive steel-on-steel adjustments ensure repeatable accuracy
Waterproof
Nitrogen-filled scope tubes prevent internal fogging, even in cold and rain
Durable, stress-free, solid 1-piece outer tube withstands shock and vibrations of even the heaviest-recoiling calibers
1-in. body tube
Guaranteed by the Burris Forever Warranty™
Features the Ballistic Plex E1™ reticle, a quick, simple, accurate reticle; reticle has trajectory-compensating technology and cascading dots to compensate for wind drift (Available on the 200320)