Ballistic Plex E1™ FFP Varmint
The Ballistic Plex E1 FFP Varmint reticle provides a precise platform for determining distance and target size of predators.
MOA tick marks across the horizontal crosshair and upper portion of the vertical crosshair.
Long-range accuracy with trajectory compensation calculated out to 700 yds.
Cascading dots to the left and right of the reticle help compensate for crosswind.
Dots represent a 10 m.p.h. wind holdoff (+/- 1.5 in. at 400 yds.) for most hunting cartridges.
You adjust for 5 or 20 m.p.h. crosswind by halving or doubling the dot distance.
Front focal plane design means trajectory compensation and wind hold-off references are accurate at any magnification.
Bold crosshairs in the FFP design make the reticle highly usable, ensuring its visibility even on low power.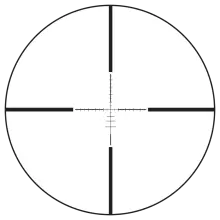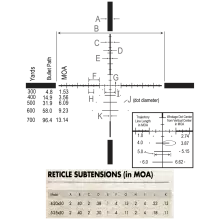 Ballistic Plex E1™ FFP Varmint Products