Oracle X Crossbow Rangefinding Scope
The Oracle X is the first and most advanced rangefinding crossbow scope on the market today! Built on a decade of experience with rangefinding optics like the Eliminator riflescope. The Oracle X features a built-in laser rangefinder that is activated via the wireless remote or the range button on the scope.
At the push of a button, the Oracle X instantly displays the distance to your target and provides an exact aiming point factoring in the angle of your shot. The aiming point will also change to stay accurate not matter where you are within the 2-7 power zoom range! The Oracle X is lightweight and robust enough to weather any conditions and as always is back by the Burris Forever Warranty. 
MSRP: $1,200
Find a Dealer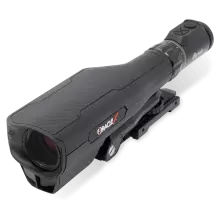 Specifications
| Item Number | Weight | Battery | Battery Life | Laser to Reflective Target | Laser to Deer |
| --- | --- | --- | --- | --- | --- |
| 300410 | 30.8 oz. | CR123 | 3,000+ | 500 yds | 200 yds |
Oracle X Crossbow Rangefinding Scope Features
2-7X Variable Zoom with Magnification Compensation ensures your aiming point stays accurate while you zoom
Wireless Remote can be placed anywhere on the crossbow for added comfort and reduced movement
Forever Warranty backs the Oracle X No Questions Asked
Integrated Inclinometer factors in angle for steep angles and shots common in tree stand hunting
Electronic Bubble Level to reduce unwanted cant
Precise aluminum mount / adjustment system
Locking Screws to ensure adjustments stay in place
Battery Life 3000+ activations
Auto-Brightness and manual adjustment allows you to fine-tune your aiming point
Minimum range: 5 yds
Built on a Decade of Experience with Rangefinding Optics like the Eliminator Riflescope
Modern, Lightweight Design is rugged and robust enough to handle any weather condition
Additional Specifications:
Length: 11.9"
Width: 2.95"
Height: 3.28"
Center to base height : 2.0"
Field of View: Low – 47ft @ 100 yd / High – 14ft @ 100yd
Oracle X Crossbow Rangefinding Scope Videos