February 6, 2018
After picking away at it for some time, I finally completed my 6.5 Grendel. Final touches courtesy of Brock Gardner and his team at MCM Firearms. The Battleworn FDE and black flag pattern turned out great!
This is an Odin Works upper, and a built lower with an XLR Industries stock. Topped off with a Burris XTR II 4-20 In a Burris PEPR mount. We hammered my steel plates from at 900 and 1100 yards yesterday afternoon.
The XTR II in this magnification range is an absolute perfect fit for this rifle. I love the features and reliability of this optic!!
Image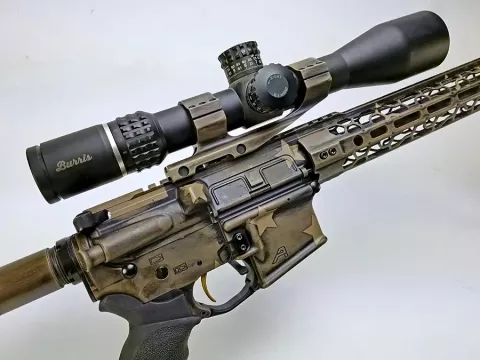 ---
Image
---
Image
About the Author
Ja Hymer lives in Boise Idaho and shoots competitively year round in 3 Gun and Precision Rifle, with a little Steel Challenge and USPSA on the side. He had six top 4 finishes in the five state Rocky Mountain Region of the PRS Club Series in 2017, including two wins.