March 7, 2022
It all begins and ends with confidence. I set out for Oklahoma to spend some range time with D.R. Long Range Concepts with a factory rifle and factory loads topped with what at the time I may have considered a "factory scope." Could I consistently group rounds with a "blue collar" type set up? Something the vast majority of the folks I know are shooting in the field. The 200 to 300 yard folks, the "I'm great to 500, but 300 is it!" crowd. Absolutely nothing wrong with landing in that pool; it's where I have always swam and the water is great.
A Browning X-Bolt Long Range Hunter chambered in 7mm Rem. Mag, shooting Hornady's 139 grain InterLock SP American Whitetail factory loads, on a Magpul Bipod, outfitted with a Kydex cheek riser I found on Amazon. Pretty blue collar! Topped with my Burris RT25 5-25x56mm sporting the SCR 2 reticle. This particular rifle has seen a couple of scopes, numerous factory and custom loads so we have a good history and some great stories but I knew that the rifle was much more capable than swimming in the afore mentioned pool. A week prior to wheels up I mounted the RT, a quick bore sight and a few days later I was prone looking down range hoping that I was at least on paper at 100. Slide the bolt open and back, chambered, comfortable and in the scope, a slight turn to focus and touch it off to plus or minus 1 1/4" high. A bit off the elevation but a couple more rounds and we're ready to stretch it out a bit more.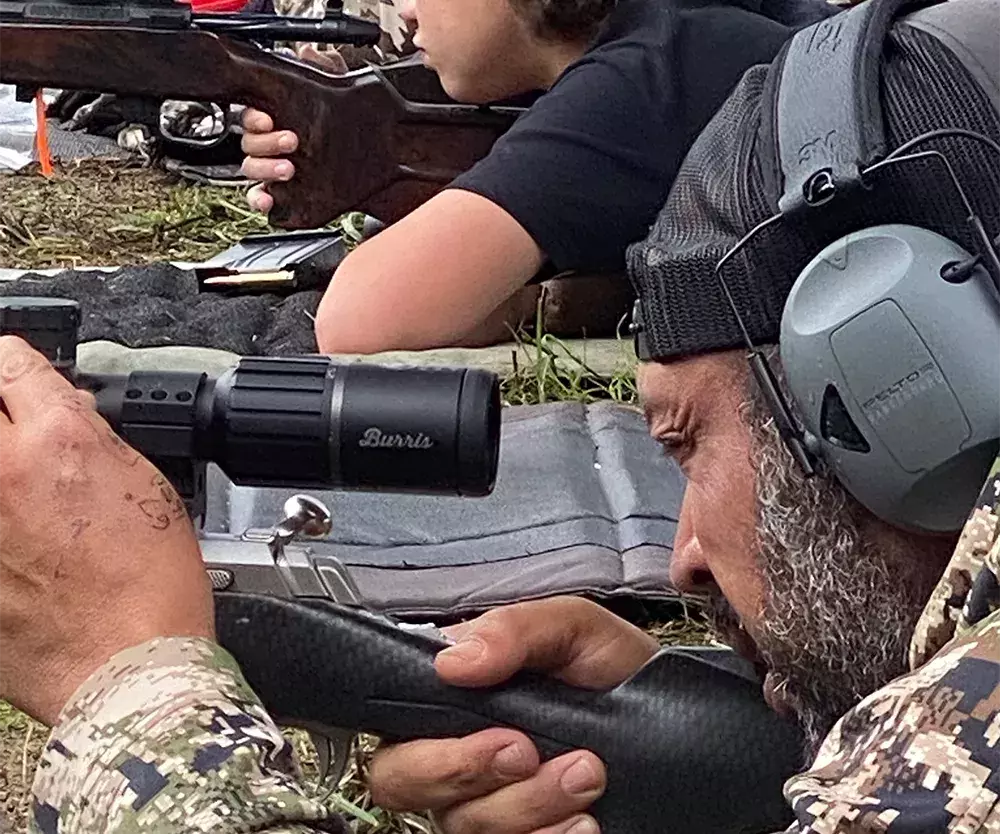 The first day around the range was mixed yardages and weather that wanted you to waste precious rounds. Wind, rain and clear on the shooter's end, fog out at 750 yards with full value wind that seem to switch as fast as your spotter could call the holds. "8 inch swinger 660 yards 5 on the rifle, 2 left send it." "Hit, right… give me 1 more left and send it. Excellent, hit center mass!" Over and over call the dial ups, hit the mark, and hit the mark with impressive consistency to the call. The RT is tight on the turret! This would be just the beginning as yardages increased to 300 and change out to 1260 yards my confidence being behind the RT25 was to the moon, less the "oops I dialed down" apology to my spotter. Laugh it off ask for the call again and "hit!"
Through the course of a few days and a couple hundred rounds it all came together easily with the glass I had just topped my rifle with. A clear and crisp reticle at 100 yards and just the same at 1000 yards, 0.1 was 0.1 on the elevation turret, the side parallax offered great tuning and through fog, rain, overcast to full sun I never suffered the eye fatigue that can accompany extended time behind the glass. For the most part I ran at 12-15 power, 18 at my favorite target a bedded buck with a 3" heart flapper out at 960 yards. On qual day it's all about teamwork and trust. Spotter makes the call, you hit the target, spotter adjust the call, you hit the target. When roles switch you make spot on calls so your shooter hits the target. If you adjust the call, ensure your shooter hits the target, again! It all begins and ends with confidence, in this case the Burris RT25. When you can lay down on that 3" flapper buck and swing his heart, knowing that trace is "money" and calling the hit at apex, you can't help getting up behind your shooter ready to take the day.
Image