July 26, 2022
Affordable Droptine Riflescopes & Binoculars
Summer scouting for me consists of setting up a lot of trail cameras and glassing big bean fields. Just knowing where the deer are is half the battle. Having good optics is huge when it comes to scouting. With gas prices at an all time high, having great gear that doesn't break the bank is essential. That's where the Burris Droptine line of optics comes in.
It doesn't matter whether you need a pair of binoculars or a rifle scope for that budget build; there is a Burris Droptine for the project. My first introduction to the Droptine line was about 3 months ago. I wanted to add some life to an old inherited .22 long rifle. You can read the full blog by clicking here. The 3-9x40mm was perfect for the little .22 plinker and is specifically designed for a rimfire firearm with the focus set at 50 yards. It also has hold over marks making it easy to shoot at desired distances. Nothing beats a good scope on a plinking gun. With the gun being an inherited one I didn't want to spend a lot of money bringing it back to life so the Droptine 3-9x40 at under $150 was just what it needed. It is super fun to shoot and has a lot more life to it.
If the hunter is looking for a scope for a little bigger sized caliber there are options for that as well. The Droptine Rifle Scopes are available in four different options. There is the standard 3-9x40 that comes calibrated for a centerfire cartridge and the .22 calibrated 3-9x40. Then there is the 4.5-14x56 that comes in two different reticles: the Ballistic Plex and the G2B Mil-Dot. All these options for the hunter in a scope that is priced under two hundred dollars with the forever warranty, that's a steal!
Image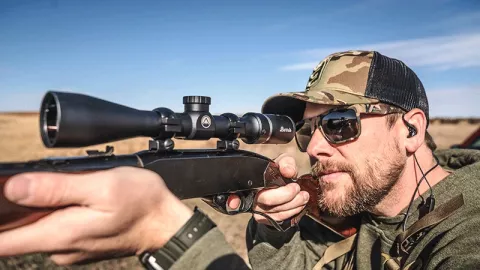 To pair with that rifle scope,  Burris has two options in their Droptine binoculars. Before we get into those let's talk about the features that make these binos a best value buy for any hunter. The binos that I have are 10x42 which is perfect for basic glassing out west, and almost overkill for deep woods of the south or midwest. The binoculars have a soft touch gripped texture that make them easy to use. The eye cups adjust well making for a perfect fit for any user. My favorite feature is the overall clarity and sharpness from the binoculars. The clarity and sharpness in the DropTine Binoculars are usually of that seen in a binocular of twice the price.
Image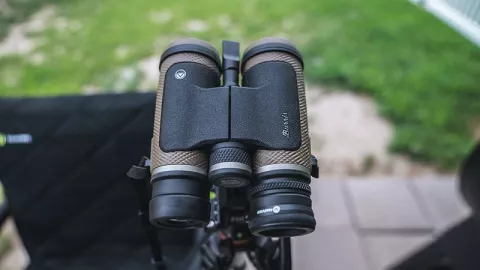 Speaking of the visuals, the DropTine binoculars have a multi-coated lens and roof prisms for bright images and vibrant colors. They are also waterproof and nitrogen-filled for fogproof performance. This really means with the changes of temperatures in the field you won't have to worry and will always see great through them no matter the conditions.  In addition to the binoculars themselves, the package came with objective covers, a binocular case, a shoulder strap and a lens cloth. If those features were not enough then add the Burris forever warranty and you get a lot more bang for your buck without shelling out a lot of dough.
If you're looking for a new pair of binoculars or a rifle scope that won't break the bank then look no further! Watch my full test of the Burris DropTine Binoculars below.
Affordable Droptine Riflescopes & Binoculars Videos