Ballistic Laserscope III LaserScope 3-12x44mm
Not everyone needs 16x magnification. The Ballistic Laserscope III in 3-12x variety offers the same features and programming as the model #200116 4-16x version, in a lighter, more compact version.
Starting at 3x magnification will provide a wider field-of-view, making it easier to quickly find your target. Having the 12 times zoom allows quickly zooming in close enough for most hunters in most situations.
There is no remote cable option for the 3-12x version, and this model is NOT compatible with low-velocity rounds such as subsonic and rimfire.
Find a Dealer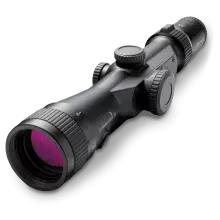 Specifications
| Item Number | Reticles | Color | Knob Style | Illumination | Illumination Control | Illumination Settings | Magnification | Objective Diameter | Objective Lens Diameter | Finish | Ocular Diameter | Focal Plane | Field of View | Eye Relief | Exit Pupil (low - high) | Click Value | Elevation Adjustment, Total Capability | Windage Adjustment | Parallax/Focus | Parallax | Length | Weight | Battery |
| --- | --- | --- | --- | --- | --- | --- | --- | --- | --- | --- | --- | --- | --- | --- | --- | --- | --- | --- | --- | --- | --- | --- | --- |
| 200120 | X96 | Matte Black | Capped Hunter | Yes | Push-button | 5 brightness settings | 3-12x | 61 mm | 44 mm | Matte | 42 mm | Rear Focal Plane | 33 – 9ft. | 3.5 – 4 in. | 16 – 4.2 mm | 1/8 MOA | 50 MOA | 50 MOA | Objective PA | 50 yds. – infinity | 13.5 in. | 28.8 oz. | CR123A |
Ballistic Laserscope III LaserScope 3-12x44mm Features
EU - Ballistic Laserscope III LaserScope 3-12x44mm Features
Sleek, ergonomic design
Features the sophisticated X96 Reticle
Built-in rangefinder allows you to range your target without carrying additional equipment
Laser range capability out to 1,200-plus yds. with reflective target, 750-plus yds. with non-reflective target
Customized trajectory compensation calculates the perfect holdover at your exact distance; program your cartridge's ballistics information, push a button, and a bright-red, illuminated dot signifies your new aiming point within seconds
Trajectory compensation works on any power
Programming cartridge information is easy as setting an alarm clock
Programming requires drop number at 750 yds. and ballistic coefficient for extreme accuracy at extreme ranges
Programming works with centerfire rifles only
Range your target in yards or meters—your choice
Reticle displays a 10 m.p.h. wind value to indicate wind hold-off for your specific cartridge at the indicated range to target
Wind Value represents how many dots to hold into the wind for a 10 m.p.h. crosswind; the shooter estimates actual wind speed and uses the Wind Value as a guide to determine the number of dots to hold into the wind
Integrated inclinometer adjusts for any angle on uphill or downhill shots, for greater accuracy
Strong, low mounting with its own bases—no rings needed
Mounts easily on any Weaver or Picatinny base
High-grade optical glass provides excellent brightness and clarity with lasting durability
Quality, precision-ground lenses are larger than comparable scopes, for better light transmission
Index-matched, Hi-Lume® multicoating aids in low-light performance and glare elimination, increasing your success rate
A double, internal spring-tension system allows the scope to hold zero through shock, recoil, and vibrations
Positive, steel-on-steel adjustments ensure repeatable accuracy
Uses 1 CR123A battery that lasts through 5,000 range cycles
Parallax adjustment from 50 yds. to infinity
Guaranteed by the Burris Forever Warranty™