Starting at
$1,079 - 1,139
<! ======================================================================= --> <! ======================================================================= -->
Reticles
New: the XTR II 2-10x42 now features the same 11-step illumination as other XTR models, reducing the time to get on target in any lighting condition and dramatically increases accuracy when target is dark. 11 brightness settings (spanning night vision, low light, and daytime), with a convenient battery-saver position between each setting.
This is serious, state-of-the-art technology for competitive shooters and tactical operators.
The XTR II 2-10x42 mm riflescope features a 5-times zoom system and 25% thicker tube construction than the original XTR™ Riflescope.
The front focal plane reticle design on this and all high-magnification XTR II riflescopes allows the reticle size to increase or decrease as magnification is increased or decreased. Trajectory compensation is always correct and proportional for the selected power setting. This reticle design is also called first focal plane or FFP.
The riflescope has dimensionally-matched precision adjustment knobs and Zero Click Stop technology.
High-performance optics offer Hi-Lume® multi-coated lenses. The lenses optimize target resolution, contrast, and low-light performance.
All hand-fitted internal assemblies are triple spring tensioned for absolute shockproofing, even under severe recoil. They are vibration resistant, even on extended vehicular patrols.
The riflescope outdelivers its modest price tag. And it's protected forever by the Burris Forever Warranty™.
Item Number:
201023
201022

Combo Package:
None
Magnification:
2-10x
Reticles:
G2B Mil-Dot™

(201023)


SCR™ MOA

(201022)



Objective Lens Diameter:
49.5 mm
Clear Objective Lens Diameter:
42 mm
Ocular Lens Diameter:
44.25 mm
Finish:
Matte
Focal Plane:
FFP
Main Tube Size:
34 mm
Field of View:
52-10.5 ft
Eye Relief:
3.50 – 4.25 in.

(201023)


3.50 - 4.25 in

(201022)



Exit Pupil:
12 low – 4.2 high (mm)
Click Value:
1/10 mil/ 100-Click Knob

(201023)


1/4 MOA; 100 click knob

(201022)



Elevation Adjustment, Total Capability:
26.2 Mils/90 MOA

(201023)


90 MOA

(201022)



Example: 50 MOA is roughly 25 MOA from center.
Windage Adjustment:
16 Mils/55 MOA

(201023)


55 MOA

(201022)



Example: 50 MOA is roughly 25 MOA in any direction from center.
Parallax/Focus:
Side Focus/PA
Length:
13.5 in

(201023)


13.5 in.

(201022)



Weight:
22.7 oz
Illumination Control:
Rotary dial; intermediate "battery saver" stops
Illumination Settings:
11 brightness settings
Battery:
CR2032
Features models with either the versatile, combat-proven G2B Mil-Dot™ front focal plane reticle (201023) or the competition-proven SCR reticle (201022)
Multi-turn windage and elevation knobs have a 1/10-mil click value adjustment and feature true Zero Click Stop
Features the SCR™ MOA illuminated front focal plane special competition reticle for precision competition use (201022 only)
Features XT-100 click adjustment knob, with 100 clicks per rotation; can take most tactical calibers out past 1,000 yards in a single turn
Extended illumination area lets you engage targets at long distance even in low light
Vertical crosshair features 1-MOA marks for distance holdover (201022 only)
Horizontal crosshair has 1/2-MOA and 1-MOA lines for windage hold-off (201022 only)
1/4-MOA brackets at the top, left extreme, and right extreme of the crosshair, for precise ranging (201022 only)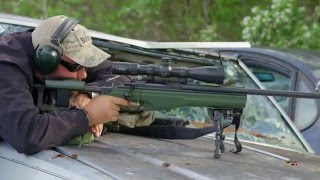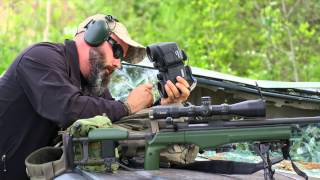 XTR II™ Riflescope 2-10x42mm
is rated out of
5
by
7
.
Rated

5

out of

5
by
swh3
from
Scope Larue Upper
Optics crisp and clean. External calibrations are marked for a quick and easy read. Great match for a Larue mount.
Date published: 2015-03-05
Rated

5

out of

5
by
djsholle
from
Another XTI
This is the third XTR II that I own. Bought it primarily due to performance of the other two scopes. So, far it has not failed to please me. The overall quality of the scope is excellent. It is being used for night time predator hunting along with a Cyclops red LED light. Some people have complained about the intensity level of the illuminated reticle. In my experience it has provided more than enough illumination for night hunting.
Date published: 2016-04-26
Rated

5

out of

5
by
CADDIE5
from
excellent for deer muzzleloader rifle
Bought this scope for my LHR muzzleloader for deer season. Optics bright, crisp, and clear at dawn and dusk.Reticle FFP MOA works great after laser ranging animals distance.Range comeups tested with Blackthorn 209 and Harvester gold scorpion bullets and sabots. Nikon muzzleloader scope failed miserably glad I spent the money on the xtr2. Dialing turrets or using MOA reticle makes deer harvesting game easy.
Date published: 2015-12-29
Rated

5

out of

5
by
Pinback
from
Fantastic Scope!
The best scope I ever owned. This one has all the desirable features. Couple this optic with 34mm Burris Signature Rings and you have a winning combination. Burris hit the ball out of the park!
Date published: 2016-07-06
Rated

5

out of

5
by
Indio
from
just Also!
I'm happy whit the purchase of the scope is a great buy and have a forever warranty the illuminated reticle work fine the product is built like a tank.
Date published: 2016-11-04
Rated

3

out of

5
by
Jcarm1989
from
With an MSRP just over $1000 Im Not Impressed.
I decided to take a stab at the new line of Burris XTR II scopes and got this 2-10x42 for an SPR build and came out kinda disappointed. Lets start with whats good. 34mm main tube lets in a lot of light when there is light. This thing is built like a tank and wouldn't be surprised if I could use it as a hammer and it hold zero. Turrets are awesome, audible clicks, tracks well, and the built-in zero-stop is a great touch.
Date published: 2017-03-13
Rated

4

out of

5
by
Pat Jr
from
Great features
I just purchased this optic and looking forward to testing it out . Just built a custom XP100 , and this is what I'm putting on it .
Date published: 2016-03-02
Not really a Question, but if you put a Mil SCR Reticle on this scope it would be PERFECT. Me and all my buddies would be all over it. We are always talking about that. As it is, it is a no go for any of our platforms however. Any chance?
Thanks for your support! The SCR reticle is VERY fine, which is what makes it so good for precision shooting. Unfortunately, that level of detail causes issues with a smaller magnification -- you'd basically be looking at a black blur. The MOA one can be adapted, but we have not adapted the Mil version.
Date published: 2017-02-07
Recently mounted the scope in a 0 MOA Larue mount, how do I set the elevation to remove the factory +20 MOA adjustment?
You are able to mechanically center your optic by doing the following: 1. Turn your elevation all the way in one direction 2. Count your clicks in the other direction until you are completely at the other end of the adjustment 3. Now, click back in the original direction half that many times. This will put your your optic at optical center. This can be done for windage as well. It does not matter in which direction you start.
Date published: 2017-01-05
I purchased a FN Scar-17s approximately a year ago and did quite a bit of custom upgrades on a already almost perfect rifle. I've been doing extensive research in a attempt to mount it with a excellent close to mid range scope. Is the XTR-II the (one)?
The XTR II 1-8 sounds perfect for close to medium range shooting on the SCAR-17. The true one power will allow you to rapidly engage targets, and the eight power will really help you stretch the legs on the rifle.
Date published: 2017-01-19
Just to confirm does model 201023 have an etched reticle?
Yes
Date published: 2017-01-19
Is the G2B Reticle illuminated yet? I know it was not in the past.
#201023 does include an illuminated G2B mil-dot reticle, the original #201020 did not.
Date published: 2017-03-16
Hi, dose Burris have a law enforcement discount? and if so how much? Thanks
http://www.burrisoptics.com/first-responder-personal-purchase-program Please see the above page for more details on the First Responder Purchase Program
Date published: 2017-01-19
will the xtr 2 2-10x42 scope work on a savage a17
It'll be a little on the heavy side for such a light rifle, but technically it *can* be mounted on that firearm, yes
Date published: 2016-06-10
Is it normal for the elevation knob to come off when you pull up on it as per the manual after you loosen the two set screws?
With *significant* force, yes, the turret will come off. While it is not recommended, simply holding the turret cap down while tightening the set screws will solve the problem. The manual indicates that you should pull up, but is unclear as to how far- there is no locking mechanism to prevent the turret cap from coming off completely, so this motion should be very slight, barely enough to clear the internal zero-stop pin. If you require assistance, our phone technical support team will be glad to walk you through resetting your zero stop properly.
Date published: 2017-02-26