<! ======================================================================= --> <! ======================================================================= -->
Reticles
New: Model #200651 and 200652 use the new Burris M.A.D. Knob System
The Veracity 5-25x50mm riflescope is designed to help you capture prairie predators, elusive elk, or dangerous game. Proven Burris engineering combines with state-of-the-art refinements for accuracy and precision.
Its 5-times zoom system provides a wide field of view and powerful ranging. 
The front focal plane reticle design allows accurate computation of distances at any magnification. It also provides both trajectory and windage reference points.
Accurate and repeatable quarter-MOA adjustments allow for fine-tuning. And side-adjustable parallax lets you instantly correct parallax while maintaining your shooting position.
The scope is backed by the Burris Forever Warranty™, and delivers true performance for a lifetime. 
Item Number:
200650
200651
200652

Magnification:
5-25x
Reticles:
Ballistic Plex E1™ FFP Varmint

(200650)


Ballistic Plex E1™ FFP

(200651)


SCR™ MOA

(200652)



Knob Style:
Tall Capped Knobs

(200650)


MAD System MOA

(200651)


MAD System MOA

(200652)



Objective Lens Diameter:
59 mm
Clear Objective Lens Diameter:
50 mm
Ocular Lens Diameter:
44.25 mm
Finish:
Matte
Focal Plane:
FFP
Main Tube Size:
30 mm
Field of View:
21 low – 4.3 high (ft. @ 100 yds.)
Eye Relief:
3.50 – 4.25 in.
Exit Pupil:
10 low – 2.0 high (mm)
Click Value:
1/4 MOA
Elevation Adjustment, Total Capability:
64 MOA
Example: 50 MOA is roughly 25 MOA from center.
Windage Adjustment:
30 MOA
Example: 50 MOA is roughly 25 MOA in any direction from center.
Parallax/Focus:
Side focus/PA
Adjustable Parallax:
50 yds. – infinity
Length:
16.4 in.
Weight:
28.2 oz.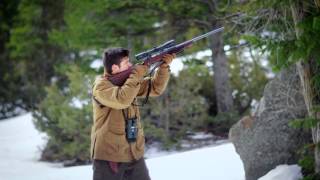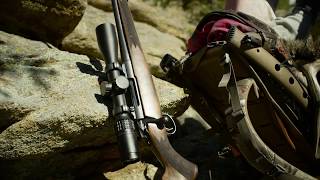 Veracity™ Riflescope 5-25x50mm
is rated out of
5
by
18
.
Rated

5

out of

5
by
jengel
from
Great FFP scope
I now have three different Veracity scopes on my .300 Win Mag, .308 Win and .300 Blackout rifles. The 5-25 is on my 300 Win Mag Remington 700 Long Range with a SWR Specwar 762 suppressor. I chose this scope because it is a First (or front) Focal Plane scope. I like the fact that the relationship between the target and reticle never changes. On most other ballistic scopes, if you are just off of high power where the ballistic drop reticles are calibrated at, you will be way off on the drops. The top turret of this scope has a zero stop that comes back down to your zero range. The clicks are spot on for 1/4 MOA and are repeatable. I know that from my 300 yard zero, it is usually 8.5MOA up to a 650 yard target depending on temp and humidity. I have killed deer, coyotes and raccoons at 600 yards + thanks to the repeatability of this scope. With 64 MOA of vertical adjustment, I have no problems getting enough adjustment out of the scope. If you think you might need more, get the signature series 30mm rings and put the + and - shims in the proper spots in the rings and you have now put an extra 20MOA cant into your system. The rings come with +10 and -10 shims. I've sold several scope and ring combos to several customers and have not had one complaint yet.
Date published: 2015-03-26
Rated

5

out of

5
by
Hunter123
from
Great scope with all the right features!
I have had my veracity for about 5 months now and love it. The zero stop is great and I love that they have good turrets that are capped. The adjustments are clearly felt and heard. The ffp is nice although I haven't used the hash marks much yet. The tracking seems spot on and I really like the reticle. For the price I don't think you can beat it. Oh and it's also really clear.
Date published: 2017-01-21
Rated

5

out of

5
by
DU3X
from
The best burris Scope yet
I have used my veracity for about 4 months now and love it. It stands up to the heavy recoil of my .338 Lapua magnum with no problem and it being a FFP makes it so easy to quickly adjust for targets. Would recommend any veracity for any hunting or target needs.
Date published: 2015-02-28
Rated

1

out of

5
by
cledus
from
Is not clear or sharp
I have two Fullfield E1 scopes that are sharp and clear. Thought the Veracity would be more clear with a little more magnification. I was wrong. The Fullfield E1 4.5-14X scope on 14 power shows 6mm holes in a white target at 200 yards very clear. The Veracity on any power, including 25 power, is not as clear on the same target. No amount of focusing improves this scope, or any combination of the side focus knob and the eye piece adjustment helps.
Date published: 2016-05-03
Rated

5

out of

5
by
The Olde Shooter
from
Clear as a bell!!!!
Was looking for a great optic at a reasonable price to mount on a new weapon. After a lot of study I chose the "Veracity". Out of the 25 or so scopes that I have, the Veracity is the clearest and sharpest one of the bunch. This one is on the Ruger Precision Rifle in 6.5 Creedmore. Now I'm considering getting another to replace the optic on my Armalite AR-31.
Date published: 2015-10-25
Rated

5

out of

5
by
longrangeyotes
from
Clear and precise!
I bought this scope a couple weeks ago, but just today had a chance to put it to the test. It's outstanding. I used it on my 25-06. Pin point accuracy. Tracks true and the MOA adjustments are spot on. Coupled with the smoking warranty, you cannot ask for anything else. Burris is at it again!!
Date published: 2015-11-01
Rated

5

out of

5
by
Johnnie
from
Value added
Actually purchased Veracity for a rifle that is being built but not yet delivered. Wanted plus 20 power, first vocal plane, wind hold overs, 30 mm tube by 50mm obj., and above all built by a brand that I trust and have used. I have it all at a competitive price.
Date published: 2015-10-18
Rated

5

out of

5
by
climber68
from
Good features
Only had it out a couple times since purchase. Has preformed well so far.Glass is very clear,adjusments could be a bit more positive.Focus is dead on.
Date published: 2015-04-06
I'm interested in this scope, but want to make sure it can handle a remington 700 7mm mag. with a muzzle brake.
All Burris optics, sights, and mounts are built to withstand recoil of up to .50 BMG
Date published: 2016-12-28
can the veracity just come with a fine cross hair , 1/4 moa dial and a zero stop?
Unfortunately no. The Veracity riflescope was in part designed to feature the First-Focal plane reticle and the Ballistic Plex E1 FFP, BP E1 FFP Varmint, and SCR MOA reticles were specifically designed to maximize the utility of placing the reticle in the first focal plane. If you have a look at our 'Reticles' page, you'll find that the FFP offering are quite fine indeed. For example, the Ballistic Plex E1 FFP Varmint has a enter crosshair that covers only .11 MOA, that's a hair over a tenth of an inch @ 100y- on all powers. Additionally, the tapered design of the main posts of each reticle are designed such to draw your eye towards the center of the reticle when using the scope on a lower magnification. 1/4 MOA turrets and zero stop are standard on all MAD-equipped models, as well as all 4-20x and 5-25x models.
Date published: 2016-12-13
I'm interested in your veracity 5-25x50 mm scope. do you have the yardage for each of the reticle lines at each power? Several years ago, i got the yardage for a black diamond 8-32x50 mm scope and they have been useful.
ballistics.burrisoptics.com
Date published: 2016-10-03
Is there a zero stop and can I go online to get ballistic input information?
Yes, and yes. Ballistics.burrisoptics.com
Date published: 2016-09-28
Does Burris have issues with their products being fired from a lead sled ?
We design our products to withstand recoil from up to .50 BMG, and test recoil mitigation in both directions.
Date published: 2016-08-12
Do you have the SCR-Mil reticle available in the Veracity 5-25x50? I only see the SCR-MOA available, why not the Mil version?
The Veracity, being designed as a hunting scope, is geared for MOA-based operations. For Mil-based options, you'll want to look at the XTR II line
Date published: 2016-05-27
Need DETAILED reticle subtentions for E1 FFP Varmint reticle, it is omitted on the reticle details page, measurements A-K plus what the 4 trajectory line values from center are.
I will have that data added to the reticle page. In the meantime, that data is published on page 58 of the catalog, which can be found at the following address: http://www.burrisoptics.com/sites/default/files/catalog/burris-2016_0.pdf
Date published: 2016-04-08
I have a Burris Veracity 5-25x50. I would like to know the distance vertically between center crosshair and the next line down and the next and the next and the next.
What would be the MOA for 300 wm
Date published: 2015-10-29