Starting at
$1,799 - 2,039
<! ======================================================================= --> <! ======================================================================= -->
Reticles
X96 Reticle

For Model: 200116 (fixed switch), 200119 (remote cable)
Eliminator III LaserScope 4-16x50mm
The Eliminator® III LaserScope™ is the most innovative and effective hunting riflescope in the world. Combining outstanding optics, pinpoint laser rangefinding, and precision trajectory compensation for the exact ammunition you choose for your hunt, it eliminates most of the variables and guesswork that often cause hunters to go home empty-handed. In one fast sequence the Eliminator III determines the distance to your target, factors in your trajectory and illuminates the perfect holdover. It's that simple.
The Eliminator III significantly extends the range and accuracy of your favorite rifle. No other riflescope combines the level of quality, technology, accuracy, repeatability, speed and effectiveness. It will greatly increase the distance at which you can make an ethical shot.
Built-In Laser Rangefinder
Laser range capability out to1,200-plus yards with reflective target, 750-plus yards with non-reflective target. Allows you to range your target without carrying additional equipment. New model with remote cable switch makes ranging activation even easier.
Automatic Trajectory Compensation
Customized trajectory compensation calculates the perfect holdover at your exact distance; program your cartridge's ballistics information, push a button and a bright-red, illuminated dot signifies your new aiming point. Trajectorycompensation works on any magnification.
Integrated Inclinometer
Integrated inclinometer adjusts for any angle on uphill or downhill shots.
Wind Hold-Off
Scope displays a 10 mph Wind Value to indicate wind hold-off for your specific cartridge at the indicated range to target. Wind Value represents how many dots to hold into the wind for a 10 mph crosswind.
Strong, Low Mounting
Riflescope comes with its own bases that attach to any Weaver-style or Picatinny base. No rings required.
Easy Programming
The Eliminator III comes with a programming book, and there is a web site app to help get the precise programming numbers you need, based on your elevation, atmospheric condition, and cartridge of choice. Check it out here.
Model Number 200119:
Eliminator III Model #200119 has some big changes over the other Eliminator III models:
It features a Remote Cable Switch to activate the On/Range button from any position the shooter desires.  The cable can be attached to either side of the Eliminator. The cable is a flexible coil, and has a length of 14-24 inches to accomodate various mounting positions.
Model #200119 is also compatible with muzzle loader and low velocity cartridges (.300blk, rimfire, etc.).  You are able to select 50 or 100 yard zeros.  The model #200119 is the only current Eliminator model with these abilities.
NOTE: It is not possible to alter or upgrade other Eliminator models to use the Model #200119 features. The remote cable is not available separately, and will not work on other models (it replaces the current mechanical switch with an electronic signal, which required an entirely new internal circuit system).
Item Number:
200116 (fixed switch)
200119 (remote cable)

Magnification:
4-16x

(200116 (fixed switch))


4x-16x

(200119 (remote cable))



Reticles:
X96 Reticle
Objective Lens Diameter:
65 mm
Clear Objective Lens Diameter:
50 mm
Ocular Lens Diameter:
42 mm
Laser Range:
750 yds. (non-reflective) – 1200+ yds. (reflective)
Operating Temperature:
-15ºF – +122ºF
Finish:
Matte
Focal Plane:
RFP
Field of View:
26 – 7 (ft. @ 100 yds.)
Eye Relief:
3.5 – 4 in.
Exit Pupil:
12.5 – 3.1 mm
Click Value:
1/8 MOA
Elevation Adjustment, Total Capability:
40 MOA
Example: 50 MOA is roughly 25 MOA from center.
Windage Adjustment:
40 MOA
Example: 50 MOA is roughly 25 MOA in any direction from center.
Parallax/Focus:
Objective PA
Adjustable Parallax:
50 yds. – infinity
Length:
15.5 in.
Weight:
30.4 oz.

(200116 (fixed switch))


30.4 oz

(200119 (remote cable))



Illumination Control:
Push-button
Illumination Settings:
5 brightness settings
Battery:
CR123A
Mounting Rail Length:
8.5 in.
| Name | Type | Modified | |
| --- | --- | --- | --- |
| Eliminator III Cartridge List | PDF | March 18, 2015 | Download |
| Eliminator III mounting plate guide | PDF | October 29, 2015 | Download |
| Eliminator III Quick Start Guide | PDF | October 29, 2015 | Download |
| Cartridge List for ORIGINAL Eliminator I | PDF | September 19, 2016 | Download |
| User Guide for ORIGINAL Eliminator I | PDF | September 19, 2016 | Download |
| Eliminator III User Guide | PDF | October 29, 2015 | Download |
| 2018 Burris Optics Catalog | PDF | February 1, 2018 | Download |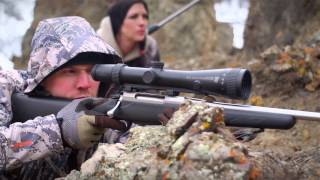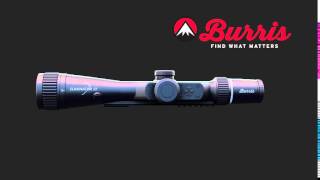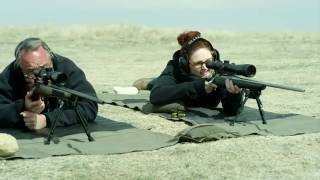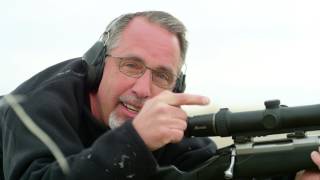 Eliminator® III LaserScope® 4-16x50mm
is rated out of
5
by
123
.
Rated

5

out of

5
by
BGibbs
from
Exceeded Expectations
I mounted the Eliminator III on my new 300RUM and went to the range. The scope zeroed quickly and consistently at 100 and the ballistic table included with the scope provided the correct drop and ballistic coefficient for my specific ammo. I shot accurately out to 500yds. The scope easily ranged targets past 1000 yds. but 500 is my max for ethical hunting. Entering the drop number and BC is much easier than I expected. Fast forward to Wyoming in October. I used the instructions provided to adjust my drop number and BC for the 6,000 ft. change in elevation from my home in TN to Cody, WY. After confirming that the adjustment was dead on we went to the field. I harvested an antelope at 407 and a mule deer at 112. Both shots were right behind the shoulder. I simply pushed the button and the scope provided the correct holdover dot. Using a separate range finder, counting mill dots or clicks and then acquire the target takes time that you often don't have in a hunting situation. The Eliminator III eliminates those steps.
Date published: 2015-02-25
Rated

5

out of

5
by
AlaskaShooter
from
Fast and accurate
Zeroed the scope at 100 after entering my ammunition information. Ranged a small steel plate at 327 yards, adjusted to the point the Eliminator III displayed and pulled the trigger. Dead center shot within a few seconds. No fiddling back and forth with a range finder, no turret adjustments, just tap, adjust, shoot. Quite often a person's window of time for the shot on game is available but for a few precious seconds after weeks worth of work. With any other system, the animal has time to disappear or get turned. Several times I've taken game there is not time for anything BUT what only the Eliminator III can provide. The mount is more solid than any scope made, rail to rail. There's zero chance of knocking it out of alignment. The optics are distortion free. The reticle is awesome. If you can read your wind, the reticle will get you on target. I'm not kidding, if you value your hunt, you'll value this scope.
Date published: 2015-09-03
Rated

5

out of

5
by
Nodakian
from
Solid tracking
Matched with an AR10 308,few shots consistent tracking right out of the box! Havnt had the oppertunity for long range shooting yet, but this scope showing its built properly be for i had even touched the electronics. The electronics portion very simple to figure out. From what i can tell im excited to get out and try my luck with the longer ranges. My suggestion is read the 10pages of the owners manual (15 min of reading) take the time to know how your bullet acts and velocity, elevation makea a difference also! Call the tech line and the people are awesome. In short without long range training im very confident
Date published: 2015-12-29
Rated

4

out of

5
by
JosephW
from
Great Scope!!
My Browning A-bolt chambered in 7mm Rem Mag has had a Burris Signature 3x9-40 on it for 26yrs and is now serving duty on my fathers old Remington CDL 700 chambered in 7mm Rem Mag. In any case when it was time to replace it, I had completed nearly 2yrs of reading forums and reviews on the Burris Eliminator lll which prompted me to purchase one to install on my Browning 7mm. I have since used this rifle and scope combination for the past 3yrs off the bench at my local range which has target bunkers installed from 100yrds to 600yrds. Off the bench shooting Premium factory ammunition by Federal, Hornady, & Winchester. Shooting this ammunition from my rig has allowed me to hit every target on the range from under 1 1/2" groups on the 100yrd targets out through the range on 8" steel plates hitting each consecutively, even on windy days using the winds advice given in the scope during ranging. In addition to shooting from the bench I have hunted BEAR, COYOTE, MULE & WHITETAIL DEER, MOOSE, & ELK throughout ALBERTA CANADA in the fall with temperatures fluctuating between +10 F to well below -20 F. I have adjusted the ballistic coefficient on this scope for 5 different loads, made 100's of range requests through sleet, snow, & fog yet have not needed to replace the battery. Albeit, ranging targets in adverse conditions is certainly not absolutely fool proof, but it performs well enough to satifiy my expectations from a scope and rangefinder. This scope has served me very, very well & my only criticism is the optics are not as clear as I initially desired & that the remote activation switch introduced on previous models and on the newest Eliminator lll does not retrofit onto my older Eliminator lll.
Date published: 2016-12-02
Rated

5

out of

5
by
Brushoakie
from
Carefully selected purchase.
The quality of this scope is quite good! I mounted it on the rail and tested at 100 yards. I was 30 inches low. I rechecked the mount and discovered an excessive gap at the front of the mount. This was due to the ceracoat on the rail. I dressed the high spot out and remounted the scope. On steel at 100 yards first shot! zeroed at 100 and the target pictured is at 751 yards in a crosswind. This was my first shot at 751 yards. EVER. This will only get better. The pressure required to activate the ranging button is high enough that it will throw you off at distance. Need to be lower of adjustable. The ballistic drop cheat sheet is far from comprehensive . Burris needs to continue to add to the list..(hint) Aguila 7.62x51 fmjbt. I consider this a lifetime purchase. You wont be sorry.
Date published: 2015-04-25
Rated

5

out of

5
by
Steph
from
Spot On!!!
I bought my Eliminator III 4-16x50mm in March 2015. I struggled to get the bullet drop correct, but as many other I did not read the Manual completely. After reading that the easiest is to physically measure the drop over 750 Yards. All my calculations fell into place. What a awesome feeling to hit the target every time over 750 Yards. Something I never thought possible. My first shot in the field landed a 208 Pound Gemsbok Bull. Amazing feeling, one of my best Lifetime buys. Thanks Burris for a magnificent piece of equipment.
Date published: 2015-09-02
Rated

5

out of

5
by
MSolo
from
Nice!
After reading the manual, I had issues with sighting in my scope as It wouldn't range. I didn't know if it was defective or operator error so I turned to U-Tube. The video was old and the scope was a little different. I finally found a current video on another web site (Since I am an auditory and kinesthetic learner) and now, all is good. Your web site is great, especially your program for adjusting for altitude but you should add an in-depth video on showing how to set-up, program and use the latest Eliminator lll scope. This scope worked well at the range when I was sighting it in and I can't wait to use it on my elk hunt this month.
Date published: 2017-10-04
Rated

5

out of

5
by
David
from
Deadly machine for rifle that I will buy more of
I bought this eliminator 3 about 4- 5 months ago and used it hunting in alaska for bear. It is awesome and extremely easy to use. We had a tough time seeing anything but I finally got a chance that the boat captain said was unmakable because you would spook him if you tried to climb up there to get within decent shooting range. I told him, I was a texan who shot pigs all the time at long distance so put me ashore and I would show him how texans shoot. Set myself up for disaster if missed by saying that but didn't tell him the technology I was using for the 700 yard shot nor that I had practiced the day before from the top of one mountain down to the beach where I nailed a 6 inch piece of floating lilly pads at 650 yards with a 10mph sidewind. The bear was up on the side of the mountain at about 700 yards from the beach and the first mate put us on the beach thinking we were going to sneak up the mountain. I lay down on the beach and put crosshairs on it, with range saying 654 yards and 1.7 clicks per 10mph so with the 5 mph wind,put the red dot on the adjusted crosshair .8 clicks to windward side and dropped him. LOL The captain freaked out and we had our first bear. Everyone then switched out and use this 300mag eliminator 3 combo to get 3 more bears and everyone was amazed at how fast you can acquire and shoot at distance compared to the old computation clicking in method. It is a tough scope too because my strap insert popped out and the gun fell in the rocks hitting on the scope and yet it continued to work without a problem. totally awesome rig and love it and will buy more.
Date published: 2014-10-08
is there an earlier version of the eliminator III that will not take the remote?
Item 200116 and 200120.
Date published: 2018-04-20
Hi I am interested in the latest Eliminator3 scope. My only concern is whether it would work in low light conditions (Dusk and Dawn) and also while using a spotlight. We do most of our hunting at night. Please advise and what range I could expect
The Eliminator III range finding feature is not usable at night. As for dawn and dusk, it should be fine.
Date published: 2018-04-19
I purchased a Burris Eliminator 4X16. I got a little over zealous and I was tightening the cross bolt with a 7/16" socket and I broke the cross bolt. Do you sell the cross stud and nuts separately?
For parts requests please visit: https://burris.supportsync.com/
Date published: 2018-04-19
Is the 20MOA RAIL on the Ruger Precision Rifle OK for the Eliminator 3?
You will need to use the supplied shims to remove the 20MOA. It is also advisable to utilize a 1/2" picatinny riser.
Date published: 2018-04-19
what is the best base mount for a burris eliminator 111 laserscope 4-16x50mm. Model 200119
There really isn't a "best" per se. It just needs to be a picatinny rail or two piece picatinny base with 0MOA of cant.
Date published: 2018-04-19
Is the illuminated aimpoint precise for the lasered range or is it the nearest hash mark? I was wondering how it worked for "in between" ranges that did not fall on a hash mark.
The illuminated aimpoint is rounded to the nearest 1/3 MOA. An aimpoint dot covers the span from halfway below to halfway above the dot-to-dot spacing (1/3 MOA). That is: a dot is selected from -1/6 MOA to +1/6 MOA from its center position.
Date published: 2018-04-11
Dear Sir/Madam Instead of Yards, can the scope measure in meters?
Yes! The first step once in programming mode is to pick Yards or Meters.
Date published: 2018-04-11
I have a Ruger M77 MK 2. what would the distance be from the center of the eyepiece to the centerline of the bore?
Hello, You would need to personally make that measurement with your rifle.
Date published: 2018-04-05