Starting at
$1,319 - 1,679
<! ======================================================================= --> <! ======================================================================= -->
Reticles
NEW: now available with the Horus H591 reticle (model #201041)
This is serious, state-of-the-art technology for competitive shooters and tactical operators.
The XTR II 4-20x50 mm riflescope features a 5-times zoom system and 25% thicker tube construction than the original XTR™ Riflescope.
The front focal plane reticle design on this and all high-magnification XTR II riflescopes allows the reticle size to increase or decrease as magnification is increased or decreased. Trajectory compensation is always correct and proportional for the selected power setting. This reticle design is also called first focal plane or FFP.
It has dimensionally-matched precision adjustment knobs and Zero Click Stop technology.
High-performance optics offer Hi-Lume® multi-coated lenses. The lenses optimize target resolution, contrast, and low-light performance.
All hand-fitted internal assemblies are triple spring-tensioned for absolute shockproofing, even under severe recoil. They are vibration resistant, even on extended vehicular patrols.
The riflescope outdelivers its modest price tag. And it's protected forever by the Burris Forever Warranty™.
Item Number:
201044
201042
201043
201041

Magnification:
4-20x
Reticles:
G2B Mil-Dot™

(201044)


SCR™ Mil

(201042)


SCR™ MOA

(201043)


Horus H591

(201041)



Objective Lens Diameter:
58 mm
Clear Objective Lens Diameter:
50 mm
Ocular Lens Diameter:
44.25
Finish:
Matte
Focal Plane:
FFP
Main Tube Size:
34 mm
Field of View:
25.8 low – 5.4 high (ft. @ 100 yds.)
Eye Relief:
3.50 – 4.25 in.
Exit Pupil:
11 low – 2.5 high (mm)
Click Value:
1/10 mil; 100-Click Knob

(201044)


1/10 mil; 100-Click Knob

(201042)


1/4 MOA; 100-Click Knob

(201043)


1/10 mil; 100-Click Knob

(201041)



Elevation Adjustment, Total Capability:
90 MOA

(201044)


90 MOA

(201042)


90 MOA

(201043)


26.2 Mils/90 MOA

(201041)



Example: 50 MOA is roughly 25 MOA from center.
Windage Adjustment:
55 MOA

(201044)


55 MOA

(201042)


55 MOA

(201043)


26.2 Mils/90 MOA

(201041)



Example: 50 MOA is roughly 25 MOA in any direction from center.
Parallax/Focus:
Side focus/PA
Adjustable Parallax:
50 yds. – infinity
Length:
14.9 in.
Weight:
30.90 oz.
Illumination Control:
Rotary dial; intermediate "battery saver" stops
Illumination Settings:
11 brightness settings
Battery:
CR2032
Your choice of following reticles:

mil-based G2B Mil-Dot™ illuminated front focal plane reticle, with hash marks between the mil dots for more precise aiming
SCR™ Mil illuminated front focal plane special competition reticle for precision competition use
 SCR™ MOA illuminated front focal plane special competition reticle for precision competition use
Horus H591 reticle, illuminated front focal plane

Features XT-100 click adjustment knob, with 100 clicks per rotation; can take most tactical calibers out past 1,000 yards in a single turn; knob provides easier calculations, faster adjustments, and less chance of getting lost on the dial
Multi-turn adjustment knobs have either a 1/10-mil or 1/4 MOA click value adjustment and feature true Zero Click Stop; knobs offer 10 mils per rotation, with multi revolutions of adjustment
An extended illumination area lets you engage targets at long distances even in low light
1/10-mil or 1/4 MOA  ranging brackets at the top, left extreme, and right extreme of the crosshair, for precise ranging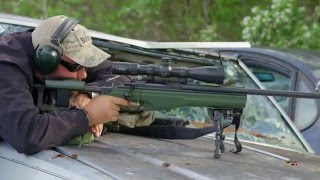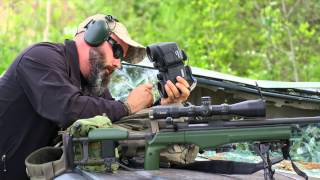 XTR II™ Riflescope 4-20x50mm
is rated out of
5
by
18
.
Rated

4

out of

5
by
BROOKTROUT
from
Great class leading features
Purchased my scope new, and out of the box I had problems. The illumination failed to work after the first hour of inspection. Changed the battery, no luck. So, before it even gets mounted it's going back for repair. The customer service has been great so far. Final opinion will depend on the turn around time and the quality of the repair.
Date published: 2016-01-23
Rated

5

out of

5
by
Red Dawg 34
from
Its Reputation Precedes IT
I purchased the Burris XTR II scope in hopes to mount it on a new Ruger Precision Rifle but I received the scope prior to receiving the rifle. I ordered the scope because of its reviews. It was also my first purchase a First Focal Plane scope. I rarely order something of this value sight unseen but because of its reputation and my overall review, I took a chance. The scope came in this past Friday and I was anxious to open the box and get my first glance through the scope and my first look at the G2B Mil-Dot reticle. I was amazed at the clarity of this scope. Since I have not received the rifle as of this posting, I cannot review the use of the scope but I will follow the review once I have it mounted on the rifle. I was in no way disappointed and look forwarded to following this review up with an actual use review.
Date published: 2015-10-19
Rated

5

out of

5
by
Bearcatrp
from
Awesome glass
Took me 6 months to get mine. Picked up a vortex to hold me over. After I mounted the Burris on my creedmoor and put the vortex on my 308, was able to compare at the range. Burris edged out vortex on glass. Had to use the turrets to re zero both rifles so got a good feel on both scopes. Burris felt better, had a more positive feed back.
Date published: 2016-10-11
Rated

5

out of

5
by
Norcal_Shooter
from
Best Bang For Your Buck!
Great Scope, Clear, Rugged, worth every penny! I bought this scope with the Horus H59 reticale for a long range rifle I was building. I could not be happier. The optic is well made. Glass is clear. Good clicks, Zero Stop, and amazing reticle!
Date published: 2016-10-24
Rated

5

out of

5
by
Don13
from
No Regrets
Easy to mount. 34mm tube. Excellent light transmission and clarity. Not some light cheap made scope. Will last lifetime
Date published: 2016-07-04
Rated

4

out of

5
by
Actionjackson12
from
New scope for 450 Bushmaster
Very clear optic. Holds zero well. Should be great for deer hunting this season.
Date published: 2016-09-21
Rated

5

out of

5
by
dsculley
from
Great glass, solid scope
I got the Burris XTR 4-20x50 for my 6.5x47 Lapua build. I decided to go Burris all the way with the XTR Picatinny mount and XTR Signature rings. I have some of the Signature rings on another rifle and I really like them. Using the ring inserts I was able to bore sight the scope without giving up very much vertical or windage adjustment. I have only been able to get to the range once since I got this mounted, but I don't think I would be any happier with any of the scopes that cost much more than this scope. The glass is very clear, the reticle is sharp and the adjustments are very repeatable. If you want a great scope that won't break the bank, I highly recommend the Burris XTR line. My next scope will be another XTR! I have had to call Burris Customer Service on two occasions. Both times the outcome was very positive. Burris Customer Service is second to none! I like the XTR line of scopes. Based on my experience with Burris Customer Service I would not hesitate to purchase any Burris product.
Date published: 2016-12-16
Rated

5

out of

5
by
The Reaper
from
Perfect precision,powerful performance
Waiting on Ruger precision rifle to hit South African shores.
Date published: 2016-01-29
Rated

3

out of

5
by
Derek909
from
Great features, lacking in execution
I got my 4-20 in June 2014 and they couldn't get them out the door fast enough. Trying to keep up with demand probably caused them to slip a little in the QA department. The first one I got, something in the parallax was put in backwards and you had to turn the knob backwards to go from close to far and you could only adjust out to about 200 yards. I called customer support and they assured me that it was user error because what I was describing was impossible. I explained that I am a trained sniper and the problem was confirmed by other members of the team. Customer service was excellent though and they had another one in the mail that day. I hadn't even sent the first one back yet. The next scope was better, I mean all the features seemed to work properly. But, the turrets were super stiff. Like so stiff that you almost needed a strap wrench to twist them. The clicks were hard to feel and if you weren't careful, you could turn 2 or 3 clicks at a time and not know it. I loose count all the time in low light and have to go back to the zero stop and start over. And if it's freezing out, forget it. Clarity is good as long as I don't go over 16x. The fast focus lense on the eye piece is a must. Going from 4x to 20x I have to turn the fast focus lense 1/4 turn to keep the reticle sharp. It's a good looking scope and no complaints about the ruggedness. With the Burris warranty, I'm not worried at all. Tracking seems good and return to zero too. Only 16 mils of windage adjustment though, with 26 advertised. With my AR10, I'm only 5.5 mils from the left stop. Like I said, I got one of the early models. Maybe they got some of these kinks worked out. Not my favorite scope though.
Date published: 2016-12-14
Rated

4

out of

5
by
chris m
from
great optics
Date published: 2015-06-18
I am a beginner at long range shooting and could use some help in deciding which reticle to choose (G2B Mil dot or SCR Mil). I have a Seekins SP10 308 and am going to buy a XTR-II 4x20x50 scope for it. I have no dealers around me.
The two reticles are both mil-based, so the choice is going to boil down to personal preference for the intended application
Date published: 2016-09-14
Does your first responder program cover search and rescue personnel who are first responders for municipalities?
To see if you qualify, please visit: http://www.burrisoptics.com/first-responder-personal-purchase-program
Date published: 2016-08-29
I saw the question in regards to Active Duty servicemember discount and registered for the program. Is it possible to get the discount with a Horus Reticle, or are they only limited to whats on the PDF? Thanks for supporting the Armed Forces!
Currently, the First Responder Purchase program is limited to the scope models in the .pdf, however, there is a note on that sheet that other models *may* be able to be purchased at a discount through one of our retailers.
Date published: 2016-07-13
Does the XTR II 4-20 have enough clicks to shoot a 308 Ruger Precision Rifle at 1000m ?
It would be irresponsible for me to guarantee that the scope will have enough clicks to reach 1,000m without knowing specifics of how the scope is mounted and sighted in (canted base? sight-in beyond 100y/m?) or specifics of the cartridge performance, as well as some general atmospheric conditions as well. However, I can say that there's a good chance that with the built-in 20 MOA cant of the Ruger Precision Rifle, you'll have enough adjustment to go for 1,000.
Date published: 2016-07-05
Is there a version of this scope with out the illumination? Thanks
We do not manufacture an XTRII without the illumination feature
Date published: 2016-06-30
Can the parallax be re-focused down to around 10 yards on the XTR II series? Will Burris perform the re-focus for me? I want to use this optic on an air rifle and the minimum 50 yards will not cut it.
Unfortunately no, the Parallax can not be adjusted. For an air Rifle, i would recommend the Timberline 4.5-14x, as it's Parallax adjustment moved from 7 yards to infinity
Date published: 2016-06-14
Hello, where can I find this scope with the H591 reticle? Thanks...............Mike
The H591- equipped XTRII 4-20x will begin shipping in the next couple of months.
Date published: 2016-06-13
Hallo, could you tell me a dealer in germany? Thank you much.
Manfred Alberts GmbH Bielsteiner Strasse 66 - 51674 - Wiehl - Germany - Europe Phone: 00 49 2262 7221-0 - Fax: 0049 2262 7221-40 email: Beretta@Manfred-Alberts.de www.manfred-alberts.de
Date published: 2016-06-08
Do you all offer a discount on scopes to active duty service members?
Yes we do! To qualify, please go to the following page and fill out your name and email address to be sent a purchase packet: http://www.burrisoptics.com/first-responder-personal-purchase-program
Date published: 2016-05-16
I am purchasing a XTR II 4-20 x 50 with the SCR MOA Reticle. I will be putting it on a Ruger Precision Rifle chambered at .308. In the future I will get an aftermarket 6.5 Creedmor barrel to have some flexibility. What scope rings do you recommend?
For the Ruger Precision Rifle with an XTR II we have been having fantastic results with the PEPR Mount. The 34mm PEPR Mount gives you additional 20MOA of cant. With the 20MOA built into the Scope this will give you 40 MOA. With this setup you will be able to shoot a mile by dialing and using a small holdover. Another option would be the XTR II Signature Rings.
Date published: 2016-04-22
What rings are recommended for the XTR 4-20 and 5-25 scopes? I'm concerned about ring height for the large objective. Will the 34 mm PEPR mount provide sufficient clearance for all rifles? I'm specifically interested in mounting on the Ruger Precision.
The Ruger Precision Rifle has a .20 moa built into its rail system. Doesn't your AR PEPR (34mm) also have .20 moa built in too? If so, I believe that set up won't work on this particular rifle. Please advise.
Date published: 2016-04-05
Just purchased the XTR II™ Riflescope 4-20x50mm (mil dot) for use with Ruger Precision Rifle with Creedmore chambering. Which height would you recommend I buy to mount with Burris Xtr Tact X 34mm scope mounts?
You'll want medium if you don't plan on using lens covers or high if you plan on using lens covers.
Date published: 2016-03-15
Witch or your Burris rings and base will give me good clearances on my rifle/scope combination? Remington 700 SPS tactical, 20" Heavy-Contour, SA, 308. XTR II, Rifle Scope, 4 – 20X, 50mm. #201043.
You will want our 34mm High rings for use with this scope. Item 420192
Date published: 2015-09-04
I am purchasing the Burris XTR II Riflescope 5-25x50mm 202052 but I am torn between the Burris AR-PEPR Scope Mount 34mm 410345 or Burris 34mm XTR Xtreme Tactical Rings. for a Ruger precision rifle 6.5 creedmoor. advantages/disadvantages either way??
I would use the XTR Rings item 420192 to mount on a RPR 6.5. The PEPR mount will give you improper sight height above bore for the type of firearm.
Date published: 2015-08-28
Using the 420192 rings for this scope, would the 6x4 or 6x6 option be better?
Either would be fine. The 6x4 version has a 4 screw front ring that allows the scope to be moved back further for eye relief adjustment when mounting.
Date published: 2015-08-28
Is there a "quick eye adjustment" feature on the ocular lens (for adjusting the reticle clarity for people who wear glasses) ? I would assume there is, but I can't tell by looking at the photo.
There is a diopter adjustment on the eye piece to focus the reticle for clarity.
Date published: 2015-08-20
On the recent American Rifle review of the Ruger Precision Rifle and the Burris XTR II, there was a LEVEL attached to the front of the scope tube, Is this a Burris product or added a third party level?? Confirm 34MM rings # 420192 for Ruger Precision Rifl
The level is an aftermarket product and not produced by Burris. 34mm High rings item 420192 are correct.
Date published: 2015-11-01
Hello, I am going to pick up my Ruger Precision Rifle in a couple of days and I am purchasing the Burris XTR ll 4x20x50 for the rifle. I need to know what hight should I purchas?
You will need High XTR rings. Item 420192
Date published: 2015-08-11
what size rings to use with the Ruger precision rifle 6.5 creedmoor. Also any ballistics for the Hornady 120-129-140gr hornady ammo?
You will need the XTR rings in High. Item 420192
Date published: 2015-08-10
What is the eta for the scr reticle. It's near June and optics planet says you all have no idea when they are coming. Is there a problem with the China production.
All of our optics are made in the Philippines and not in China. As for the SCR reticle model of the XTR II: 201042: SCR-MIL We have multiple of these on hand that just passed through final inspection and they are beginning to ship out. 201043: SCR-MOA Again, we have multiples on hand that passed through inspection and are shipping out.
Date published: 2015-06-15
Your website shows model 201042 for SCR-MIL. Is this correct?
The SCR MIL will be offered in a number of XTR II scope in 2015. Item # 201042 does have this reticle as the option.
Date published: 2015-10-28
Last week I ordered the xtr ii 4-20 SCR MOA from B&H. Will I receive one of the scopes in the March limited release?
Thanks very much for the fast response! B&H indicated that this was a special order and the scope would be shipped directly from Burris. Hopefully I am one of the lucky ones that receives a scope in March. Thanks again.
Date published: 2015-03-25
Does the Burris XTR II 4-20x50mm come with rings or sun shade or do those things need to be purchased separately? Thanks
The XTR II come with a sun shade and lens covers. You will need to purchase rings for your application.
Date published: 2015-03-18
What Rings do you recommended to mount your XTR II™ Riflescope 4-20x50mm on an LRB arms M25 (M14/M1A style receiver) Receiver with the built in scope rail?
You need a Picatinny rail.
Date published: 2015-03-11
when will the scr reticle be availibe
The SCR scopes are shipping end of this month (March 2015), but fairly limited release. By May they will be available everywhere. Thanks for the interest!
Date published: 2015-06-13
Hello, I have a Remington 700 LA that is currently being re-barreled with a Sendero contour barrel. I've got a Leupold 1pc.15MOA picatinny base for it and I was wondering if you can tell me the height of the rings I'll need for the XTRII 4-20x56 scope?