Starting at
$1,319 - 1,679
<! ======================================================================= --> <! ======================================================================= -->
Reticles
NEW: now available with the Horus H591 reticle (model #201041)
This is serious, state-of-the-art technology for competitive shooters and tactical operators.
The XTR II 4-20x50 mm riflescope features a 5-times zoom system and 25% thicker tube construction than the original XTR™ Riflescope.
The front focal plane reticle design on this and all high-magnification XTR II riflescopes allows the reticle size to increase or decrease as magnification is increased or decreased. Trajectory compensation is always correct and proportional for the selected power setting. This reticle design is also called first focal plane or FFP.
It has dimensionally-matched precision adjustment knobs and Zero Click Stop technology.
High-performance optics offer Hi-Lume® multi-coated lenses. The lenses optimize target resolution, contrast, and low-light performance.
All hand-fitted internal assemblies are triple spring-tensioned for absolute shockproofing, even under severe recoil. They are vibration resistant, even on extended vehicular patrols.
The riflescope outdelivers its modest price tag. And it's protected forever by the Burris Forever Warranty™.
Item Number:
201044
201042
201043
201041

Magnification:
4-20x
Reticles:
G2B Mil-Dot™

(201044)


SCR™ Mil

(201042)


SCR™ MOA

(201043)


Horus H591

(201041)



Objective Lens Diameter:
58 mm
Clear Objective Lens Diameter:
50 mm
Ocular Lens Diameter:
44.25
Finish:
Matte
Focal Plane:
FFP
Main Tube Size:
34 mm
Field of View:
25.8 low – 5.4 high (ft. @ 100 yds.)
Eye Relief:
3.50 – 4.25 in.
Exit Pupil:
11 low – 2.5 high (mm)
Click Value:
1/10 mil; 100-Click Knob

(201044)


1/10 mil; 100-Click Knob

(201042)


1/4 MOA; 100-Click Knob

(201043)


1/10 mil; 100-Click Knob

(201041)



Elevation Adjustment, Total Capability:
90 MOA

(201044)


90 MOA

(201042)


90 MOA

(201043)


26.2 Mils/90 MOA

(201041)



Example: 50 MOA is roughly 25 MOA from center.
Windage Adjustment:
55 MOA

(201044)


55 MOA

(201042)


55 MOA

(201043)


26.2 Mils/90 MOA

(201041)



Example: 50 MOA is roughly 25 MOA in any direction from center.
Parallax/Focus:
Side focus/PA
Adjustable Parallax:
50 yds. – infinity
Length:
14.9 in.
Weight:
30.90 oz.
Illumination Control:
Rotary dial; intermediate "battery saver" stops
Illumination Settings:
11 brightness settings
Battery:
CR2032
Your choice of following reticles:

mil-based G2B Mil-Dot™ illuminated front focal plane reticle, with hash marks between the mil dots for more precise aiming
SCR™ Mil illuminated front focal plane special competition reticle for precision competition use
 SCR™ MOA illuminated front focal plane special competition reticle for precision competition use
Horus H591 reticle, illuminated front focal plane

Features XT-100 click adjustment knob, with 100 clicks per rotation; can take most tactical calibers out past 1,000 yards in a single turn; knob provides easier calculations, faster adjustments, and less chance of getting lost on the dial
Multi-turn adjustment knobs have either a 1/10-mil or 1/4 MOA click value adjustment and feature true Zero Click Stop; knobs offer 10 mils per rotation, with multi revolutions of adjustment
An extended illumination area lets you engage targets at long distances even in low light
1/10-mil or 1/4 MOA  ranging brackets at the top, left extreme, and right extreme of the crosshair, for precise ranging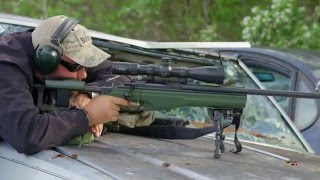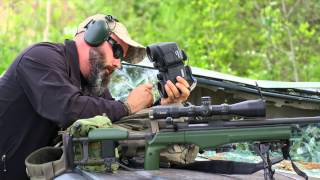 XTR II™ Riflescope 4-20x50mm
is rated out of
5
by
18
.
Rated

5

out of

5
by
5195mxr
from
amazing scope
Burris has a winner here! They really out did themselves on this scope. This isn't just some review cause I own this scope....I've owned a lot of scopes, particularly ffp tactical scopes this has impressed me enough to write a review. This was impressive enough so that I sold all my other scopes and now have two 3-15's and the 4-20.( and the scopes i sold are high end) Great glass...and I mean clear even at high power. consistent eye relief, and built like a tank. Love the turrets and ease of reading the windage marks. The zero stops are awesome. I could live without the illuminated reticle but that's just me.
Date published: 2015-03-20
Rated

5

out of

5
by
Fishkat
from
Great FFP Scope
I've had this scope now for close to 6 months and it is mounted on a 6.5 Creedmoor rifle shooting targets at 100 to 600 yards. Clarity is very good as is focus and parallax adjustments. Windage and elevation adjustments are precise, and easily made by counting clicks or viewing the knob graduations. Best of all the adjustments are repeatable, so if you dial out for shots past your zero distance returning back to your zero is accurate and spot on. The Zero Stop works. I'm quite pleased with this scope and consider it a bargain and there is little different between the Burris XTR II and another leading brand I own that costs almost twice as much.
Date published: 2015-09-03
Rated

5

out of

5
by
Jim d
from
Great Scope
This scope is perfect for the 308 long range rifle I built. I Compaired it next to my S&B long range hunter and my Swarski Z6 scopes . Setup a target at 300 yards and compared image sharpness at sunset. I could not see any difference between the three scopes. Only real difference is price. Burris quality has really improved and it is apparent partnering with Stiner and Baretta they have created An extremely high quality M&P line of optics at a fantastic price.
Date published: 2015-06-07
Rated

5

out of

5
by
Ben K
from
This scope surpassed my expectations
The Burris XRT II, has everything that I have been looking for in a first focal plain scope. The cross hairs are thin even when dialed up to 20 power. Turrets are firm, and with distinct clicks at each MOA. Illumination is adjustable and very visable. The scope is well made, heavy duty tubing and knobs, glass is clear and over all appearance is outstanding. I would buy this scope again and I incourage anyone looking to buy a quality scope to look at this one, you will not be disappointed. Ben K.
Date published: 2015-11-06
Rated

4

out of

5
by
Todd B
from
Built Solid
I've been using the 4-20x XTR-II with the G2B reticle for a few months now. It's built really solid. The elevation and windage tracking have been reliable and return to zero has been consistent. The turrets have a solid feel to them with distinct clicks. The only downside I've experienced is the clarity at the higher magnifications.
Date published: 2015-06-01
Rated

5

out of

5
by
Jman
from
Great Product, and Features
Bought this scope several months ago for my AR10. Scope has excellent clarity and tracks true. In the future I hope Burris will add more advanced reticles to the XTR II line.
Date published: 2014-10-08
Rated

5

out of

5
by
Robert T
from
My Favorite Scope
I purchased this scope a few months ago and mounted it on my Remington 700 Tactical. I had done a little work on the rifle and had already worked up a nice load that shot under a 1/2 MOA. After taking a few shots to sight the rifle in, I went to my father in-laws to shoot across the back of his property. I found a spot where I could shoot out to 835 yards by hanging my steel target in a tree. I plugged all of my information into my ballistics program and shot a little high and to the right. (This was my first time ever shooting past 475 yards.) The wind was giving me a hard time so I adjusted and almost hit the bulls eye. After shooting at 835 yards and 477 yards, I zeroed the turrets and shot at my 100 yard target to see if my turrets were going to adjust accurately. They worked great. I couldn't be happier with this scope. My old scope was a SWFA 3-15x42 and it was an okay scope for the money. The Burris XTR II in 4-20x50 helped me a lot and is in another world when compared to the SWFA scope. I wish that I would've saved my money and purchased this scope first. I love the glass and am a fan of the G2B reticle. It's simple and it works. I like the turrets, zero stop, illuminated reticle, feel, and general quality of the scope. I truly feel that this scope is worth more than the asking price.
Date published: 2015-06-12
Rated

5

out of

5
by
TJ Hammes
from
Great Scope!!
I purchased this scope on sale through Optics Planet. Got a great deal. Scope performs flawlessly on my custom AR platform. I use it with a Strelok ballistics calculator and it is right on. Have only shot on a range out to 600 yards but always goes right back to zero. Planning on getting the 8 x 40 for the Ruger Long Range Precision Rifle as soon as I can get my hands on one.
Date published: 2015-08-24
XTRII 4-20x50... Is it manufactured in Philippines or Japan?. What's battery life on illumination? Mils per revolution? & how many mils of elevation adjustment above "mechanical scope zero"? Zero stop obtained by slipping turrets & 3 set screws or what?
Philippines Battery life will depend on the settings it is used on 10 mRad / rev 65 MOA Zero stop is set using 2 set screws in the top edge of the turret
Date published: 2016-12-29
XTR II™ 4-20x50mm 591 M1A Loaded 4th gen when rifle is at verticle in a stand scope cants t right 3-5 degrees to keep the horizontal line on point. it definitely looks off. any suggestions? The gasket curled upon removing battery how to get new one?
If the reticle is not canted with respect to the turrets of the scope, then the problem is with the scope's position within the rings. If the reticle is not true to the turrets, we'll need to rectify that issue under warranty. Call 888.440.0244 to set up a return and/or to get a new battery cap.
Date published: 2016-12-14
Good afternoon I would like to know if the grid Horus is totally illuminated or is the T cpmp the other reticulas thank your attention
The H-591 reticle is illuminated only on the vertical axis, and consists of dots at critical intervals (I believe every 5 mils)
Date published: 2016-12-01
Good morning, I would like to know if the scope XTR II when I select the SCR lattice the turret is a thousand, we would be talking about a turret MIL AND RETICULA MIL?
milliradians (mRad, or 'mils') represent the same amount whether they are held over using the reticle, or dialed with the turret. Let's say for example you needed to make an adjustment of 20 mils to hit your target, you would have 3 options to hit it accurately: - dial 20 mils with the turret - hold 20 mils in the reticle - use a combination of both, 10 mils dialed, and 10 mils held over with the reticle.
Date published: 2016-12-01
Maybe I'm illiterate, but I can't find out how to reset the zero stop anywhere!!! I love the scope by the way it's a great piece of glass. Somebody please help me out so I can finish getting my scope set up.
The two set screws in the turret act like sort of a clutch: they engage the turret underneath the cap when tightened, turning both at once. When loosened, only the cap turns, allowing you to reset your zero-stop. If you would like live assistance, our Technical support team would be happy to help. 888.440.0244
Date published: 2016-11-22
have the SCP reticule on my 201043 and want to change it to G2B Mil-/Dot Does this change require change of the .25 MOA
Currently, the XTRII scopes are not able to receive reticle upgrades.
Date published: 2016-11-17
Do you offer a LE discount on the scopes?
http://www.burrisoptics.com/first-responder-personal-purchase-program
Date published: 2016-11-17
Is this waterproof?
Yes.
Date published: 2016-10-25