<! ======================================================================= --> <! ======================================================================= -->
Reticles
Now available: three new models featuring the M.A.D. Knob system.  (201003, 201004, 201005).
This is serious, state-of-the-art technology for competitive shooters and tactical operators.
The XTR II 1-5x24 mm riflescope features a 5-times zoom system and 25% thicker tube construction than the original XTR™ Riflescope.
It has dimensionally-matched precision adjustment knobs and Zero Click Stop technology.
High-performance optics offer Hi-Lume® multi-coated lenses. The lenses optimize target resolution, contrast, and low-light performance.
All hand-fitted internal assemblies are triple spring-tensioned for absolute shockproofing, even under severe recoil. They are vibration resistant, even on extended vehicular patrols.
The riflescope outdelivers its modest price tag. And it's protected forever by the Burris Forever Warranty™.
Item Number:
201000
201001
201002
201003
201004
201005

Magnification:
1-5x
Reticles:
XTR II Ballistic 5.56 Gen 3
Knob Style:
Low Mil Knobs

(201000)


Low Mil Knobs

(201001)


Low Mil Knobs

(201002)


MAD System Mil

(201003)


MAD System Mil

(201004)


MAD System Mil

(201005)



Objective Lens Diameter:
30 mm
Clear Objective Lens Diameter:
24 mm
Ocular Lens Diameter:
44.25 mm
Finish:
Matte
Focal Plane:
RFP
Main Tube Size:
30 mm
Field of View:
108 Low - 21.5 High (ft. @ 100 yds.)
Eye Relief:
3.5 - 4.25 in.
Exit Pupil:
12 mm low - 4.8 mm high
Click Value:
1/10 mil
Elevation Adjustment, Total Capability:
90 MOA
Example: 50 MOA is roughly 25 MOA from center.
Windage Adjustment:
90 MOA
Example: 50 MOA is roughly 25 MOA in any direction from center.
Parallax/Focus:
None
Adjustable Parallax:
None
Length:
11.3 in.
Weight:
21.1
Illumination Control:
Rotary dial; intermediate "battery-saver" stops
Illumination Settings:
11 brightness settings
Battery:
CR2032
Three new models feature the M.A.D. Knob system.  (201003, 201004, 201005).
Some models feature the XTR II Ballistic 5.56 Gen 3 illuminated rear focal plane reticle helps the shooter achieve maximum accuracy with 5.56/.223 ammunition
Some models feature the XTR II Ballistic CQ Mil illuminated rear focal plane reticle
Also available: Special Combo Package includes a complete shooting platform at significant savings: XTR II Riflescope 1-5x24mm with XTR II Ballistic 5.56 Gen 3 rear focal plane reticle, FastFire™ III 3-MOA red dot sight, a 30 mm AR-P.E.P.R.™ mount, and a Scope Tube FastFire™ Mount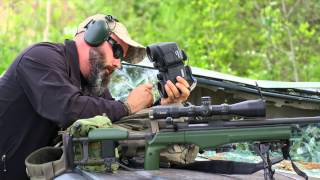 XTR II™ Riflescope 1-5x24mm
is rated out of
5
by
12
.
Rated

4

out of

5
by
Scooter
from
Durable scope at a great value
I've been using this scope since February. I've used it in Kyle Defoors carbine class, VTAC Carbine 1.5, Dark Angel Medical Bullets and Bandages, and various group shoots that I put together. I'm a fan, and this scope has features that other more expensive scopes don't. Zero stop, daylight bright reticle, mil drop with horseshoe reticle, and excellent knurling on the knobs. It's proven to be quite durable, and I'm still on the same battery since I bought it 5 months ago. Two negatives - Exposed turrets. Burris, it's not a target scope. I'm not going to dial on the fly when I have Mils or a BDC. *Nobody* dials for windage under pressure anyways. Cap them babies. I've thrown mine around and it's only come loose once. But still... Other negative is I wish there was more space between the horseshoe and the center dot. With the illum turned up bright it's like a basketball of death. Up close it doesn't matter. At distance under speed it forces me to slow down. So either make the horseshoe more narrow, or widen it. Or both. Other than that, I love this scope and plan to install another on other rifles I get.
Date published: 2015-07-09
Rated

5

out of

5
by
Bholc
from
Impressed thus far.
After the 3 Gun Nation 2015 rulebook was released, I decided to change equipment divisions from what is now Factory Division (formerly Tactical Irons) to Practical Division (formerly Tactical Optics). The scope went on my rifle early in January, atop an Aero Precision 30mm mount. Thus far it's been through two matches and a couple practice sessions, about 1000 rounds of .223. The rifle has been tossed into barrels, dropped onto tables, and ridden around in a soft case with my shotgun. It's held zero perfectly, and I don't expect that to change. As to the reticle, (Ballistic 5.56 Gen3) I really like it. I've shot rifles before with the 1-4 MTAC or Tac30 scopes on them, and the large center dot can really get in the way by obscuring the target when trying to make longish shots. That is not the case here, as the aiming points are small enough that they don't obscure the targets while the illuminated horseshoe around the center dot makes blazing fast up close shots simple. IIRC the reticle was calibrated to 62 gr M855 ammo, but it's damned near perfect with my 69 gr loads at least out to 600 yards which is as far as I've shot with it thus far. The glass is clear, the adjustments are clean with nice sharp clicks, it's not too heavy, and the reticle is fantastic. If you're looking for a good quality optic that won't break the bank to play the 3 gun game or to slap on your favorite carbine this one should be on your short list. I've been so impressed with the performance thus far of this scope that I have two good friends who will be putting other members of the XTR II family onto the new rifles they're building right now. If anything changes over the course of the year's competition season, I'll post another review at the end of the year.
Date published: 2015-03-05
Rated

5

out of

5
by
John Doe
from
excellent combo of red-dot and scope
This will be a long review, I feel this scope is very over-looked. What made me buy this scope was a combination of reticle design, illumination brightness, and most importantly (to me) this scopes ability to keep a solid sight picture with no shading (something I was very impressed with and surprised by, as out of all the scopes i've used, which is most on the market, including the very expensive ones, the Burris was the best in this regard), and it's robustness. Let me say that satisfaction with a scope is a very preferential decision that is influenced by what you think is important, and for me it's eye-box- the ability to move and have the scope maintain a solid sight picture with no shading around the edges (I believe many people confuse eye-box with field of view) as well as overall 1x performance, is the most important factor for me, followed closely by reticle design and illumination brightness. The Burris has variable eye relief so it's gives you a very large sweet spot for a sight picture and is very forgiving of head placement/cheek-weld (This is the only low power variable with variable eye-relief). I can shoot it just as fast as a holographic sight (and yes I have used a shot timer to test this). I've had extensive time with a very expensive european 1-6x scope that is commonly referred to as a "sister" scope company to another very very popular european 1-6x scope company, and was able to shoot the Burris XTR II faster on 1x because it had no shading while the european 1-6x did have some shading (but not much- and this was only if you moved with it). I'm guessing this because of the forgiveness in head placement the variable eye relief gives you and it's lower magnification ratio. If you go to youtube.com and type in "Burris XTR II 1-5x review", there is a video on the very top of the results list that includes Point of View recordings (what you would see when you look through a scope) and you can see that when the shooter moves and shoots with the scope it maintains a complete 360 degree sight picture with no shading around the edges. If you watch the reviews he does of other scopes, they all have some shading/distortion you can see, but not with the Burris. I guess I went over-board with this aspect of the scope because I feel the Burris's 1x performance/eyebox is so over-looked when people compare scopes, but if you look at the video review I mentioned and then look at the reviews the uploader does of other scopes you can see what I am talking about (as they all feature POV recordings). That aside it has very good glass for it's price point, the mil reticle is excellent with perfect thickness of the stadia lines which makes for great shooting out to 500 yards (you can probably stretch this number farther), as well as a horseshoe that has excellent illumination (def. the brightest illumination of etched reticles available, highest setting is to bright and I live in the desert). Also feels durable and built like a tank at 21 oz. (so it's heavy, but it is well balanced and doesn't affect performance). I know that was long but I feel this is such an over-looked scope, especially when I consider the cost and performance of other scopes out there.
Date published: 2015-06-25
Rated

3

out of

5
by
Brutus
from
Great scope for the money
I take this scope hunting on an AR .223/5.56. It has seen normal use , in the rain and been banged around a bit, it holds zero and the glass is great. Turrets are tactile and crisp. Only thing I have to complain about is the illumination does not work anymore. I contacted Burris and they will repair it... but i have to pay shipping...I dont feel i should have to pay shipping for a factory warranty repair. Subsequently Three stars is what I can give it
Date published: 2015-05-05
Rated

5

out of

5
by
Subedei51
from
I purchased the xtr xtreme tactical 1-4 x24 scope that came as a package deal with mount and fast fire 2 reflex site. It has very y nice glass that beats my dad's various x ll, and is comparable to a meopta that I have. I have it on a psa 6.8 and it survived some rough terrain and uphill hikes and still kept zero. Only issue was the fast fire 2's battery cover came off. But the reticle worked great and I am pleased with my purchase.
Date published: 2015-11-28
Rated

5

out of

5
by
MattS85
from
Great optic
After a solid 2 months of research on what optic I wanted to run my AR most effictively with, I ended up going with the XTR II 1-5. I bought the combo that included the Burris mount and fast fire 3 red dot. The scope is very visually pleasing, and it's functionality is even better. Zeroed it yesterday with ease, 50 yards for the scope, 25 on the FF3. Using the scopes turrets were fairly easy, and it seemed like their adjustments were true. I'm not a pro shooter, rather very much amateur with a little training, and to me this scope was overall easy to setup and use. The only complaints I have so far is the provided torx wrench is junk, and the torx screws were very tight. Definitely need to use a higher quality torx bit to make mounting adjustments. the other being RFP reticle is only true when fully zoomed in. This will likely not be an issue, as the scope will be on 5x to take shots out past 200 yards anyways, but having a chart or something to figure out the approximate hold over at different magnification levels would be nice. But these complaints don't warrant less than 5 stars. Take the 1-3 star reviews with a grain of salt. They are combinations of user error and whining that they have to pay $10 for shipping for warranty. Look up other reviews on AR forum and snipers hide, as the reviews on here and Amazon aren't written fairly.
Date published: 2016-03-06
Rated

2

out of

5
by
AZ ERIC
from
Reticle and parallax issues
I bought this scope with high hopes but was very disappointed. I wanted something with daytime visible illumination and something with a little more power than a 1x-4x and a more forgiving eyebox than a 1x-6x at full magnification. This scope fit the bill. Unfortunately, there were a couple of things I wasn't expecting. I went with the CQ mil reticle because I didn't want to be restricted on what to use this scope with but it ended up being the biggest disappointment. The illustrations of the reticle on Burris' website show a very clear reticle that is easy to read. In reality, it is small to the point where the numbers "2", "5" and "10" are difficult to read. The vertical post has 4 different length hash marks (very short, short, medium and long). The "very short" and "short" are so small, they look similar in length and difficult to see at that. They actually look like dots. Did I mention they are hard to see. The only "very short" one is at the 1 mil mark. The first medium mark is at "2" which is nice and visible. I wish they used the mediums for "1" through "4" and "6" through "9" keeping the long hash marks on the "5" and "10" and getting rid of the 0.5 mil hash marks which look like dots and are hard to see anyways. The second disappointment was the parallax at 1x. It looks pretty bad like the target was moving. That could be very distracting with fast-close targets like in 3 gun competition. I didn't have a chance to check out the other stuff because those 2 issues were enough for me to give up on this scope. I didn't even mount it. Maybe things would be better if I did but I didn't want to drop the resale value just to try it out. If I can't sell it, I'll keep it and use it and maybe add to this review. My intended use for this scope is 3 gun competition so speed is important. With hash marks that are hard to see, I expect time wasted looking for them. Sometimes, the targets are dark or in the shade. Trying to place a short hash mark on it would be difficult because you could lose it in the target or shade. I've used other scopes with long hash marks that extended past the targets. That let me know quickly if I was on target VS a short hash mark hidden in the target. I use the 1 mil hash mark a lot for the 300 yard targets and that is the most difficult one to see on this scope. I never had a scope with a reticle crowded with useless 0.5 mil hash marks or one with parallax problems so I didn't realize how much it would bother me.
Date published: 2015-06-06
Rated

1

out of

5
by
DaeDae
from
quality issues!
The glass is nice, and the turrets have a good feel to them. However there is no parallax adjustment which makes consistent shots at 200 yards a joke. The second focal plane scope is not very user friendly. The reticle is too small, and it is hard to read the the mils. If I had to do it all over again, I would either go with an entirely different optic, or get the 1st focal plane version. The build quality is a bit questionable as well, one of the lenses in the tube got knocked out of place and is now floating around inside the tube. The warranty should take care of it, but I'm really bummed out that it failed after only 85 rounds of 223 On my ar15. A scope in this price range should be expected to have a bit more quality to it. Also I've been accustomed to Burris having some of the best flip it scope caps, but my ocular scope cap hinge developed a hairline crack on my first outing with the scope.
Date published: 2015-02-27
I have had my xtr11combo with fast fire 3 out twice now and illumination doesn't work. Put fresh battery in, start from off go to high and nothing. Rotate back down and nothing, if I rotate down from high fast enough sometimes it will light up on two.
http://www.burrisoptics.com/customer-service Create a case at our support center above, and one of our tech support guys will troubleshoot the illumination problem with you.
Date published: 2016-08-01
On your XTR II, 1-5x24mm scope, What's the difference between Low mil Knobs & MAD System Mil?
Low Mil refers to the current multi-turn target knobs, where the MAD turrets are single-turn (1 revolution) The benefit of the MAD turrets is the ability to swap the turret from a low, capped turret, to a large exposed knob, similar to the 'Low Mil' turrets. Additionally, the MAD turrets can fitted with custom-matched turret caps (either covered or exposed) for your cartridge at an additional cost.
Date published: 2017-01-27
I just purchased an XTR 1-5X for my AR10-.308. Is this scope night vision compatible?
Illumination settings 1-6 are compatible with night vision.
Date published: 2016-03-21
How would this scope work for a 308 Ar ? I'm looking for a scope for my 308 that I can use for 3 gun applications or pick up for a quick hunting trip .... any suggestions
You are starting in the right area. The 1x5 XTR II is a go to product for many competitive 3 gun shooters. I do not foresee there being an issue using this scope for hunting applications also.
Date published: 2017-02-02
Recommended mounting height?   Example 1.25 to center?
Between 1.5 and 1.6 from top of the rail to center of scope. The AR-PEPR mount is perfect for this optic.
Date published: 2015-06-24
1-5x24 and 1.5-8x28: I'm a little confused the description talks about MOA with elevation and wind but states 1/10 mil click value. Is the scope mil or moa?
It is MIL. It is easier to visualize 1" increments than 3.6" increments, that is why it is referred to in terms of MOA.
Date published: 2015-11-07
I just bought an XTR II 1-5X24 and I don't have enough elevation to go high enough. It adjusts from 0 to about 5 or 6 on the dial, is this all it is designed for and what should I do?
Please call into the support center for troubleshooting assistance. 888-228-7747.
Date published: 2015-11-23