<! ======================================================================= --> <! ======================================================================= -->
<! ======================================================================= --> <! ======================================================================= -->
Reticles
Now available in Prym-1 camo patterns.
Available with the Ballistic CQ reticle, or new Ballistic AR reticle (200426, 200426-ff)
The resilient MTAC 1-4x24mm riflescope is tough, with superb, glare-resistant glass and a sleek, snag-free profile.
This compact model is perfect for 3-Gun, close quarter battle (CQB), or big-game stalking.
With its high-performance glass, solid 1-piece tube, and internal double spring-tension assembly, this MTAC Riflescope can handle the harshest shooting environments.
And the warranty is forever.
Item Number:
200437
200437-FF
200426
200457
200465
200466

Combo Package:
None

(200437)


Included

(200437-FF)


None

(200457)


Included

(200465)


None

(200466)



Magnification:
1-4x
Reticles:
Ballistic CQ™

(200437)


Ballistic CQ™

(200437-FF)


Ballistic AR

(200426)


Ballistic AR

(200457)


Ballistic AR

(200465)


Ballistic AR

(200466)



Objective Lens Diameter:
30 mm
Clear Objective Lens Diameter:
24 mm
Ocular Lens Diameter:
42 mm
Finish:
Matte

(200437)


Matte

(200437-FF)


Matte

(200426)


Prym 1 Blackout

(200457)


Prym 1 Blackout

(200465)


Prym 1 Sandstorm

(200466)



Focal Plane:
RFP
Main Tube Size:
30 mm
Field of View:
100 low – 32 high (ft. @ 100 yds.)
Eye Relief:
3.5 – 4.0 in.

(200437)


3.5 – 4.0 in.

(200437-FF)


3.5 – 4.0 in.

(200426)


3.5 – 4.0 in.

(200457)


3.50 – 4.00 in.

(200465)


3.5 – 4.0 in.

(200466)



Exit Pupil:
24 low – 32 high (mm)
Click Value:
1/2 MOA
Elevation Adjustment, Total Capability:
130 MOA
Example: 50 MOA is roughly 25 MOA from center.
Windage Adjustment:
130 MOA
Example: 50 MOA is roughly 25 MOA in any direction from center.
Parallax/Focus:
None
Adjustable Parallax:
None
Length:
11.3 in.
Weight:
14.5 oz.

(200437)


25.0 oz.

(200437-FF)


14.5 oz.

(200426)


14.5 oz.

(200457)


25.0 oz.

(200465)


14.5 oz.

(200466)



Illumination Control:
Rotary dial; intermediate "battery saver" stops
Illumination Settings:
10 brightness settings
Battery:
CR2032
Tactical kit includes a complete shooting platform at a significant savings: MTAC 1-4x24mm riflescope, 3-MOA FastFire™ 3 red dot sight, and 30 mm AR-P.E.P.R. Mount (200437-FF only)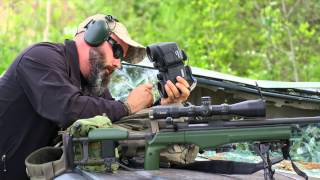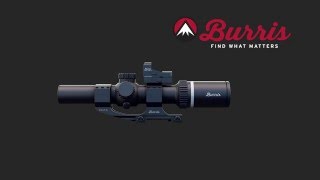 MTAC™ Riflescope 1-4x24mm
is rated out of
5
by
49
.
Rated

4

out of

5
by
Hank
from
Awesome Clarity
Picked this up on a trade, in new condition, for coyote hunting. The glass is wonderful! Very clear. The construction is very robust as well. For CQB, this is the ticket. And, for body hits at 300 is a breeze. Down side, the reticle is not for shooting MOA groups, but it's not designed for that. Also, the illumination flickers on number three because the it does not click in solid. It's has a positive click on the rest. Overall, for the money, this optic is above it's peers and I'm very pleased. I like the fact I can use it as a combat optic and hunt coyotes too.
Date published: 2016-02-06
Rated

5

out of

5
by
tthor
from
Excellent Value
I've been running the MTAC on my Sig 556 SWAT rifle for close to a year now. It's actually my second MTAC; the first one I bought had a very slightly canted reticle (that I didn't notice at the time of purchase). Burris service was simply outstanding; I was sent a replacement scope pronto. The higher reticle illumination settings work in even the brightest sunlight. I wish the lowest setting was actually a little *dimmer* - it tends to wash out my night vision a bit on really dark nights. But that's a minor gripe. I really love the true 1X magnification at the low end - shooting with both eyes open is completely natural, making it a snap to rain down a little bad news on the local hog population. :-)
Date published: 2014-10-08
Rated

5

out of

5
by
Hotrod
from
Great choice for 3 gun
I have been using the Tac-30 for about 6 months, this is a wonderful piece of equipment! Targets at 50 yards or less on 1 power works just like a red dot with both eyes open, I have reached out to 300 yards in a competition and experienced a 1 shot hit several times. I have never fired it with the reticle illuminated, it is black normally and is very easy to see in the daytime, I am sure that in a low light situation, the illuminated reticle would be awesome. My only complaint is I would have preferred a little more magnification, maybe 1-6, but definatly not a deal breaker! I would definatly recommend this product! Phillip
Date published: 2015-04-25
Rated

5

out of

5
by
fawn saver
from
Great scope for a coyote rifle
Nothing has let me down about this scope. The mtac is a hunting scope for sure and don't let it get u down shooting at paper, in the field you'll be amazed with the precision. I'll also say when i bought the scope i was looking forward to the illuminated sight for low light. However i found it works best in the day and off at night using the outer ring for targeting by letting your eye center on the target. Ill add some pic or my last trip with my mtac 1-4.
Date published: 2015-10-24
Rated

4

out of

5
by
dashotgun
from
great scope
I bought this for my TAVOR bullpup and could not be happier. I have it sighted at 100 meters and the red circle is effective at short range. The one power allows both eyes open. The eye relief is adequate. It holds zero and I feel like it is a quality piece. the price to performance is a pro no cons I do wish it would come with lens caps butler creek caps break with regularity. I also owned a leathermen 1x 4 cmr which I sold not liking the reticle . I replaced with a Leupold VXR patrol which is pricer then the Burris and only slightly better in image quality but is a 1.25 minmum
Date published: 2014-10-08
Rated

4

out of

5
by
Jdv500
from
Solid performer,
*Shoots great, fast sight acquisition using the scope or the red dot, keep in mind this is a close in optic. *Red dot fastfire sits too high imo, so I moved it to an side angled rail position down on the same level as the scope mounts. * Like a previous writer said, I don't like the thickness of the primary red dot at 200/ 300yards as it covers the target, so do the lower bdc dots even as they are smaller. I understand this is a close quarters device. *The fastfire red dot took several rounds to get it on point, but shoots tight out to 50yards on my Sig 556xi chambered in 7.62. * Trying to use the bdc drop dots and the supplied 7.62 graph at 200 and 300 yards is a joke as the dots are larger then large sized colored targets I put up. Still able to put all rounds on the target between the center x and the outer perimeter, checking my hits with binoculars.
Date published: 2015-08-03
Rated

5

out of

5
by
Joe Pesci
from
Works great on my Tavor
I bought this scope 3 months ago after my expensive advanced micro red dot sight junked out on me. the MTAC is definitely what I have been looking for and the reticle is great for shooting out to 50 yards. My only complaint is that it didn't come with covers. Luckily my Hawke Optics Crossbow scope flip ups fit it just fine. I mounted it on my Tavor with the PERP mount and the eye relief for this scope is great. I will be purchasing more of these for our other rifles. I have a shelf full of sights that just didn't stand up to the conditions that I hunt. This sight is the best thing out there for the money. I live in Houston Texas, get out to the range about twice a week and have put thousands of rounds through my Tavor with this sight mounted on it. Seems to hold up well so far. Definitely a great sight!!!!!
Date published: 2015-12-10
Rated

5

out of

5
by
JCFD142
from
Great all around scope!
Got this scope in July to put on my AR. It is perfect for what I need it for. I use it for varmint control at the farm and home defense. The glass is clear and I really like that the brightness settings on the Reticle have an off position between each one. 1 power is not quite a true 1 power but it works well with the illumination turned up as a CQ/CB red dot scope. The Reticle works well as I have busted coyotes out to 200 with no problems. Overall, this is a perfect all around AR scope at a really good price!
Date published: 2015-12-10
What size butler creek covers would work on the 1.5-6 MTAC?
OBJ 31, EYE 17
Date published: 2016-12-08
I have 2 MTAC's.With the illumination in the off position-with the dial positioned to a dot and not a numbered position should the retical be illuminated? One of the scopes the reticle is black in the off position on the other it is slightly illuminated.
I'd recommend giving our technical support department a call 888.440.0244
Date published: 2016-11-18
I have a Ruger AR-556 with a fixed front sight post.  Do I need to buy a spacer to lift the scope up so I can have line of sight through the front sight post and the optic?
No, you will only be able to see the front sight post below about 1.5x, and even then, it should be below the crosshair, allowing you to engage targets as intended.
Date published: 2016-09-22
Is the reticle daylight visible?
The reticle illumination is designed to give contrast against dark targets or in darkened environments. That being said, it is visible during daylight hours on the highest brightness settings, but direct sunlight will tend to wash out the illumination, but the black reticle will remain visible.
Date published: 2016-09-22
I purchased a burris mtac 1x4 with a fast fire 3 as a set my scope is sighted in beautiful my fastfire 3 is way high and i can't lower it any more. What am i doing wrong?
Try sighting in at a further distance. I typically sight in my red dot sights at 150y
Date published: 2016-09-27
ARD for this scope?
We do not manufacture an ARD for this optic.
Date published: 2016-08-29
Hello Burris - looking to buy the Mtac 4x24 to mount on my AR 10. My question - a few of the online retailers state this scope has a selectable 3MOA or 8 MOA reticle. Yet when I call to get more details they don't know the answer. Help please!
The FastFire III is available in 3 MOA or 8 MOA, however the unit that is packaged in the combo kit will be 3 MOA, there is no option to select 8 MOA for the combo.
Date published: 2016-08-12
Does the MTAC/PEPR/Fastfire 3 combo come with smooth top rings for the PEPR in case I decide to not keep the Fastfire on it? And, do you guys plan on adding the Ballistic AR reticle to the Ballistic Tools program sometime soon? It would be really nice!
The subtensions are identical to the Ballistic CQ. Until we get the site updated, using that reticle in Ballistics tools will output the same values. The combo packages should come with the smooth tops in the box.
Date published: 2016-08-12