<! ======================================================================= --> <! ======================================================================= -->
Reticles
Eliminator III LaserScope 3-12x44 mm is one of the most advanced riflescopes on the planet. Its sleek, lightweight design is robust. And it's ready for action, ranging and knocking down targets out to 1,200-plus yards.
Precise trajectory compensation is calculated for your exact ammunition and range.
You can use the illuminated aiming point to take down game even in low-light conditions.
The Eliminator III LaserScope 3-12x44mm delivers extreme accuracy at extreme ranges.
The Eliminator III comes with a programming book, and there is a web site app to help get the precise programming numbers you need, based on your elevation, atmospheric condition, and cartridge of choice. Check it out here.
Item Number:
200120
Magnification:
3-12x
Reticles:
X96 Reticle
Objective Lens Diameter:
61 mm
Clear Objective Lens Diameter:
44 mm
Ocular Lens Diameter:
42 mm
Laser Range:
750 yds. (non-reflective) – 1200+ yds. (reflective)
Operating Temperature:
-15ºF – +122ºF
Finish:
Matte
Focal Plane:
RFP
Field of View:
33 – 9 (ft. @ 100 yds.)
Eye Relief:
3.5 – 4 in.
Exit Pupil:
16 – 4.2 mm
Click Value:
1/8 MOA
Elevation Adjustment, Total Capability:
50 MOA
Example: 50 MOA is roughly 25 MOA from center.
Windage Adjustment:
50 MOA
Example: 50 MOA is roughly 25 MOA in any direction from center.
Parallax/Focus:
Objective PA
Adjustable Parallax:
50 yds. – infinity
Length:
13.5 in.
Weight:
28.8 oz. including mount/battery
Illumination Control:
Push-button
Illumination Settings:
5 brightness settings
Battery:
CR123A
Mounting Rail Length:
6.9 in.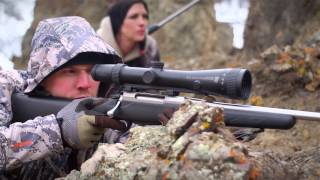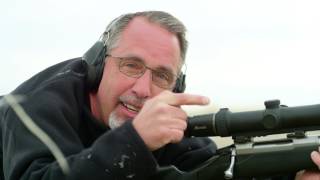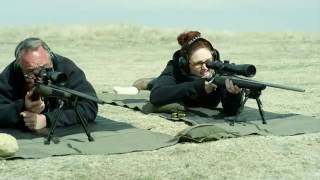 Eliminator® III LaserScope® 3-12x44mm
is rated out of
5
by
14
.
Rated

5

out of

5
by
AlaskaShooter
from
Fast and accurate
Zeroed the scope at 100 after entering my ammunition information. Ranged a small steel plate at 327 yards, adjusted to the point the Eliminator III displayed and pulled the trigger. Dead center shot within a few seconds. No fiddling back and forth with a range finder, no turret adjustments, just tap, adjust, shoot. Quite often a person's window of time for the shot on game is available but for a few precious seconds after weeks worth of work. With any other system, the animal has time to disappear or get turned. Several times I've taken game there is not time for anything BUT what only the Eliminator III can provide. The mount is more solid than any scope made, rail to rail. There's zero chance of knocking it out of alignment. The optics are distortion free. The reticle is awesome. If you can read your wind, the reticle will get you on target. I'm not kidding, if you value your hunt, you'll value this scope.
Date published: 2015-09-03
Rated

5

out of

5
by
Hondaman501
from
Awesome scope
This scope is simply put one of the best optics I have ever used.
Date published: 2014-10-13
Rated

4

out of

5
by
o1 for sure
from
best scope I've ever had
Great optics once I got the ballistics set it was spot on at one hundred to one thousand yards on my 243wssm. The rangefinder worked great out to one thousand yards bit unfortunately it had lost some of its rangeing ability.Now I am lucky to get four hundred yards they have it in the repair shop now.
Date published: 2015-07-03
Rated

5

out of

5
by
saber
from
Eliminator 3
This is one of the best scopes I have ever used. It made my long range shooting better.
Date published: 2015-05-26
Rated

4

out of

5
by
Rick51
from
Very good obtics
I have fine tuned the sight in and so far out to 350 yards works great. Looking for longer range shooting opportunities.
Date published: 2014-10-08
Rated

5

out of

5
by
Rainman1450
from
eliminator
Great scope!!! well made and reliable . No more need to carry a rangefinder. Once set up to your caliber it is truly an ELIMINATOR. No guess work. I love it... JJC
Date published: 2015-07-31
Rated

5

out of

5
by
Wingshooter
from
Excellent Scope
Very accurate. Easy to operate and a lot of fun to shoot. All good hunters know that sometimes an animal will give you only a few seconds to shoot. Having the Eliminator on your rifle eliminates the need of carrying a range finder and makes quick hunting shots possible as you don't have to worry about ranging the animal. I have taken game upto 800+ yards with this without any problem.
Date published: 2015-07-10
Rated

5

out of

5
by
Slydog
from
Great product for your money
I have used this scope now for 2 hunting season and all I can say is it performs perfect. when its ranged, it is on, no guess work!
Date published: 2014-10-09
Will this mount to a semi auto? I'm buying a Browning Bar mark III chambered in. 308.
Yes, you will just need a picatinny rail/base.
Date published: 2017-02-21
I am looking for a sun shade for an eliminator 3 along with a lens protector for this end of the scope. Who has them?
Hello! We would be happy to send you replacements under warranty! Please go here to get started. https://burris.supportsync.com/
Date published: 2017-02-09
How well does the range finder perform in wet conditions? Heard from someone it may not very well?
All rangefinders, from every manufacturer, perform best in clear conditions. That's one of the reasons why we don't brag about the absolute maximum range, but instead stick to a range that you're likely to see in normal hunting conditions.
Date published: 2017-02-07
Is it possible to export this scope outside of US? I would like to buy it and send it as gift to my friend in Ukraine.
We have a distributor in the Ukraine: www.feniks.ua
Date published: 2017-02-07
Will this model work on Remington 700 ultimate muzzleloader?  I would be using 250 - 300 grain bullet and velocity of 2150 to 2300. I know the 4x16 is me capable but that is way over scoped and I'd prefer this size.  Is this programmable for my applicatio
The #200116 *will not* work with a muzzleloader. It must be used with projectiles that drop less than 230" @ 750y However, the new #200119 will have additional ballistic capabilities to accommodate low-velocity projectiles
Date published: 2016-12-30
My eliminator will not power on after sighting it in on a 308. What can I do.
I would recommend contacting technical support at 888.440.0244
Date published: 2016-12-22
On a 4x16 at 16 power what do the dots represent in mills. Same question for the 3x12. I own both and want to make my range cards. Thanks
The mil dots of the 4-16x @ 16x *do* calibrate as true mil-dots, however the dots of the 3-12x @12x are roughly 4/3 mRad (that's four thirds, or 1.33)
Date published: 2016-12-20
Where I can buy from Saudi Arabia?
http://www.burrisoptics.com/international-burris-dealers
Date published: 2016-12-08